New edition: "This Won't Hurt (Us) a Bit: When 'health care' is actually 'wealth care' for the rich." On our FREE Humor Times app!
In the latest edition of the "News in Cartoons" Humor Times app, called This Won't Hurt (Us) a Bit, the world's greatest editorial cartoonists (who also populate our popular Humor Times magazine) review the latest news in the way only political cartoonists can.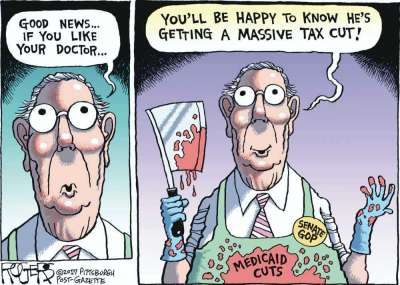 Follow the GOP's finest as they work to realize their long-held dream: repealing Obamacare.
That this so-called "health care plan" also repeals Medicare itself, around since the Johnson administration, doesn't seem to faze them. Neither does the fact that it means 23 million of us are out of luck, and the only positive is for the very rich, as they get very richer.
SAD! Yes — but the incredibly talented national editorial cartoonists we feature manage to make us laugh in each new "News in Cartoons" app edition, as they point out the absurdities of modern politics and the clueless politicians who practice it.
The app also features a "bonus cartoon" each issue, as well as a funny video of the week.
The Humor Times "News in Cartoons" app is available only for Android phones or tablets at this time, but we hope to be rolling out an iOS versions and others soon.
It's the FUN way to get your news!
"A beautiful brain-blast!"
— Dubious Cherce
"Great for political humor enthusiasts. Funnest AND funniest way to get your news!"
— J LeDoux
Each edition is basically an excerpt from the Humor Times monthly magazine (available in print or digital format all over the world), a publication that reviews recent news stories in hilarious fashion with editorial cartoons by the finest in the business, arranged with a running narrative above each cartoon, stringing them together to tell a recent news story.
Please share this page or the app itself widely on Facebook, Twitter, by email, etc! Help us make it go viral! (You can share right from the app, or from the Google Play store while you're there, or just share this post, and/or copy the link below.)
Thank you, and enjoy!