The real reason Donald Trump is making a last minute trip to Slovenia, Melania's birthplace
It has long been believed that President Donald Trump, who has described his own hair as resembling 'a wet raccoon,' had purchased his disproportionately more attractive Eastern European wives for undisclosed sums. Trump has even tweeted that he believes his wife of 12 years "is still under warranty and eligible for a full refund, including shipping and handling."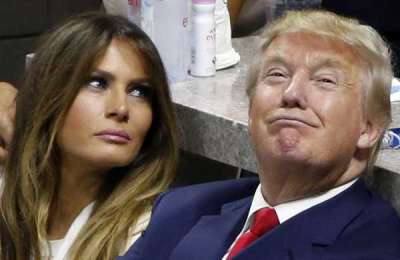 However, the government of Slovenia promptly replied to that tweet, explaining that they "are not Amazon.com," and saying that "Mr. Trump should have purchased extended warranty." They quickly added that "Barron Trump is also not eligible for a refund — OR credit."
In response, President Trump has since gone on a Twitter tirade about how Slovenia makes "terrible deals" and is a "#fakecountry."
In front of a visibly flabbergasted Angela Merkel at a press conference during the G20 Summit, Trump was asked about the optics of "attempting to trade in his wife and son for new ones," to which Trump responded: "I'm more of a grab and go kind of guy… you know, like the delis."
He continued, "My boys Vlad and Xi know what I'm talkin' bout!" while pointing to the presidents of Russia and China, both of whom looked incredibly uncomfortable.
Other Eastern European nations, in hopes of falling in Trump's favor, have attempted to offer the President a selection of potential future spouses, though Trump has made very specific requirements, including "tall, blonde, and named Ivanka."
Meanwhile, Slovenia is exploring future potential buyers for Melania, including but not limited to Russia's Vladimir Putin, who has listed among his favorite interests "screwing women who try to prevent Trump from screwing millions of over."
Melania could not be reached for questions, but did tweet a statement that "she loves her husband very much," and that "if he only came to bed instead of tweeting… maybe we could sort things out."
The following two tabs change content below.
Adam Barsouk
Adam Barsouk is an accelerated student of medicine and health policy at the Jefferson Medical College. He was a writer for the Penn State student newspaper and satirical newspaper, and also frequently contributes to the Pittsburgh Post Gazette, the Centre Daily Times, and the Jewish Chronicle. Adam speaks 6 languages, has visited over 30 countries, and loves sharing his knowledge, experiences and perspectives.
Latest posts by Adam Barsouk (see all)