New edition: "Total Eclipse: Hate tries to eclipse tolerance in Trump's America" – Now available on our FREE Humor Times "News in Cartoons" app!
In the latest edition of the News in Cartoons Humor Times app, called Total Eclipse, the world's greatest editorial cartoonists (who populate our popular Humor Times magazine with great material every single month) review the latest news in the way only political cartoonists can.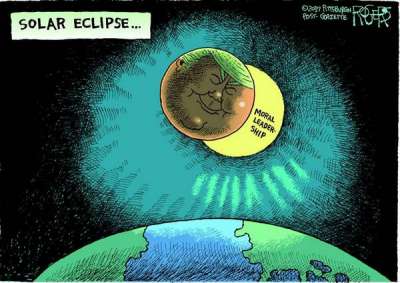 Each edition of the News in Cartoons Humor Times app features a string of hilariously biting editorial cartoons for the reader to swipe through, strung together with narrative captions — telling each week's recent news story in a very entertaining way.
The entire world was stunned when the president seemed to equate neo-Nazis with our Founding Fathers recently, praising the white supremacists who marched in Charlottesville, Virginia.
Although he read from a script a couple days later, trying to sound a bit more presidential while being critical of the white nationalists, he sabotaged himself the following day when he let his true feelings out. In yet another insane diatribe that his handlers dread, he said there were "fine people on both sides," and blamed the "alt-left" just as much as the neo-Nazis who were proudly chanting their hatred of Jews and everyone not like them.
It is times like these that call for the talents of the world's greatest political cartoonists, who help to give us perspective and even laugh in the face of such un-American behavior from our supposed "leader." But they do not let Trump off the hook, using hard-hitting political satire to take him down a few notches.
The News in Cartoons app also features a "bonus cartoon" each issue, as well as a funny video of the week — this week's short being a classic one from "Funny or Die," showing a Robert E. Lee stature singing about his feelings on being taken down.
The Humor Times "News in Cartoons" app is available only for Android phones or tablets at this time, but we hope to be rolling out an iOS versions and others soon.
It's the FUN way to get your news!
"A beautiful brain-blast!"
— Dubious Cherce
"For those who love political cartooning, this e-mag has the best ones, including several Pulitzer Prize winners. They mostly (but not always) lean left, but don't spare anybody who doesn't deserve sparing."
— John L.
"Great for political humor enthusiasts. Funnest AND funniest way to get your news!"
— Jim L.
Each edition is basically an excerpt from the Humor Times monthly magazine (available in print or digital format all over the world), a publication that reviews recent news stories in hilarious fashion with editorial cartoons by the finest in the business, arranged with a running narrative above each cartoon, stringing them together to tell a recent news story.
Please share this page or the app itself widely on Facebook, Twitter, by email, etc! Help us make it go viral! (You can share right from the app, or from the Google Play store while you're there, or just share this post, and/or copy the link below.)
Thank you, and enjoy!
The following two tabs change content below.

The
Humor Times
is the "World's funniest news source!" Sure, we like to inform our visitors, but in a playful sort of way. We believe political satire is one of the best ways to help folks let down their defenses and see things in a new light, as well as to help bring haughty leaders back down to earth. Plus, it's just plain fun! The
Humor Times magazine
(delivered to your door 12x/year) is a great way to enjoy this brand of humor, it makes a wonderful gift, and
SUBSCRIPTIONS
are very affordable!

Latest posts by Humor Times (see all)