Our intrepid radio talk show host interviews Gov. Chris Christie!
ANNOUNCER
Live from under a rock in your backyard, it's The Jerry Duncan Show.
JERRY
Good morning listeners nationwide. Is it a good morning? We'll soon find out. Today on the show my guest is the former Republican candidate for president, New Jersey Governor Chris Christie. Chris is a real ball buster who tells it like it is. He's here to talk about his new book I've Never Missed a Meal. Welcome, Governor Christie.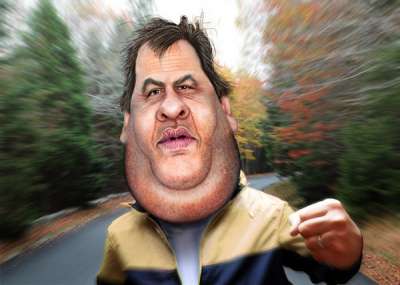 GOV. CHRIS CHRISTIE
Hello.
JERRY
Just for the record, you ate all the donuts in the green room. I was hoping against hope you'd leave one for me.
CHRISTIE
Too bad. So sad.
JERRY
Okay. Tell me about your book. It's really an inspiration for every fat person out there who can't resist food.
CHRISTIE
That's right. Ever since I was a young boy, I always had something in my mouth. Whether it was a piece of pizza, pie, chocolate bar, ice cream sundae, Big Mac. You name it, I ate it. When a classmate went missing, a doctor had to pump my stomach. Turned out to be a false alarm. But guess what?
JERRY
That's what.
CHRISTIE
I know I am. But what are you?
JERRY
Oh shut up.
CHRISTIE
Being fat got me to where I am today.
JERRY
Yeah. The Goodyear blimp.
CHRISTIE
No, you idiot. Governor of New Jersey. I think big.
JERRY
You mean bigger. Big is King Kong.
CHRISTIE
Okay wise guy. Hey, is that a tire you're wearing around your waist?
JERRY
No, I ate Jeff Sessions. Yeah I'm a little overweight. So what!
CHRISTIE
My book has servings that would make Michelle Obama's head explode. Five bowls of Cocoa Krispies for breakfast with a glass of chocolate milk, two Big Macs piled high with cheese, mayo, lettuce, tomatoes and onions for lunch. Not to mention a double portion of fries. And for dinner, a roasted pig Hawaiian style. A large man's dream.
JERRY
Do you eat the whole pig?
CHRISTIE
Down to the eyeballs my man.
JERRY
Gross. Let's talk politics. You endorsed Donald Trump for president. I'm surprised after he said such mean things about you.
CHRISTIE
Like?
JERRY
His helicopter would crash if he gave you a ride.
CHRISTIE
That's not mean. It's a fact. When I need to get around, my staff ties me to a truck and I float in the air like a balloon in the Macy's Thanksgiving Day Parade. The reason I like the Donald is because he makes fun of everyone and tells the truth. During the campaign, I really observed how much Marco Rubio resembles Bambi and Ted Cruz sounds like chalk screeching across a blackboard. Trump will bring jobs back to America from China and Mexico. Which means more Chinese and Mexican food for me.
JERRY
That's disgusting. There are people starving in America.
CHRISTIE
It's survival of the fattest .
JERRY
Just a minute Governor. Hold that thought.
INTERN
You called boss?
JERRY
(softly) Yeah. Order a medium Margarita pizza for me, but nothing for Christie. I want to watch the dude drool like a dog when I eat in front of him.
INTERN
Got it. Anything for me?
JERRY
Yeah, a kick in the rear. Now get out of here.
CHRISTIE
Jerry, can I say something about my book?
JERRY
Go ahead.
CHRISTIE
All the proceeds go to my Waistbusters Foundation. We help kids exceed their maximum weight.
JERRY
Hey, you shut down the state operated beaches last July in New Jersey. Why?
CHRISTIE
Because I'm an asshole. Look, I wanted my budget passed.
JERRY
So you take your family to the beach while everyone else is stuck in the house roasting to death.
CHRISTIE
There's an upside.
JERRY
Yeah, whale watchers got their monies worth. Excuse me. This bulletin just came in from the newsroom. (pause) Get this folks. Donald Trump had his wife Melania deported, because she is a mail order bride and didn't have a visa.
CHRISTIE
Guaranteed she's got a VISA.
JERRY
Not the charge card you idiot.
CHRISTIE
Just saying.
JERRY
Ahh, here comes my lunch. A nice hot pizza from Tony's.
CHRISTIE
What about me? Don't I get some?
JERRY
You're going to drool until you drown in your own saliva.
CHRISTIE
(desperate plea) Come on Jerry. I'll paraglide off the Atlantic, get you Dallas Cowboys tickets, admit to Bridgegate, anything.
JERRY
Good-bye everyone, See you tomorrow. Mmm this pizza is good.
CHRISTIE
Gimme, gimme. Please gimme.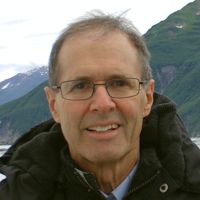 Latest posts by Dean Kaner
(see all)