Wherein our intrepid talk radio show host interviews Mitt Romney.
ANNOUNCER
Live from under a rock in your backyard, it's The Jerry Duncan Show.
JERRY
Good morning listeners nationwide. Is it a good morning? We'll soon find out. We have a very special guest, the former Governor of Massachusetts Mitt Romney.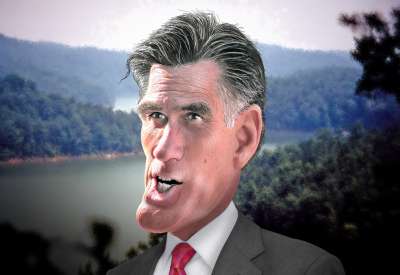 MITT ROMNEY
Hello Mr. Duncan.
JERRY
Call me Jerry.
ROMNEY
Call me Bain in the Ass, Captain Kook, Flip-Flop Mitt, Mr. One Percent or Waffles.
JERRY
How about Multiple Choice Mitt?
ROMNEY
That works.
JERRY
You were the 70th Governor of Massachusetts from 2003-07. Initiated RomneyCare that made residents buy health insurance or face penalties. You believed in legal and safe abortion. Things that you were against in the 2012 presidential race. You vilified Obamacare, which is basically the same plan as yours and you are against abortion.
ROMNEY
That sounds right. Or is it? There must be a third thing. I never have just two positions.
JERRY
Chameleon Mitt.
ROMNEY
That also works.
JERRY
You graduated from Harvard with a JD and MBA in 1975. Did a mission for the Mormon Church in France for three years.
ROMNEY
I got out of the draft. It was wonderful.
JERRY
You're a draft dodger.
ROMNEY
No. I was rooting for the Vietnam War.
(shouting)
USA, USA, USA.
JERRY
But your dad George Romney, the Governor of Michigan, was against the war.
ROMNEY
Me too, once I drew number 300 in the draft lottery.
(shouting)
No more war, no more war, no more war.
JERRY
You started your career in 1977 at Bain and Company. For those of us who don't care, what the hell do you do for a living?
ROMNEY
I buy distressed companies. Then sell their assets leaving me and investors with a pile of cash and people out of work. Sometimes I just ship the companies overseas so I can take away pensions.
JERRY
No wonder Newt Gingrich called Bain "vulture capitalism." And here I thought you were the Ward Cleaver of politics, not Eddie Haskell. In 1994 you ran for the Senate in Massachusetts against Ted Kennedy. And lost!
ROMNEY
Speaking of which here's some interesting things to ponder. More people died in Ted Kennedy's car than in a nuclear power plant. Gary Hart's biggest mistake was not letting Ted Kennedy drive Donna Rice home. God created booze so Ted Kennedy would never be president.
JERRY
Here's some more things. Mitt Romney calls 300 million underpaid workers with no job security a good start. Romney can save social security by putting all the money in his Swiss bank account. He plans to connect with the Latino community by having himself deported.
ROMNEY
Where did you get that information?
JERRY
From the White House. Trump called you a failed candidate that begged for his endorsement in 2008.
ROMNEY
Donald Trump is a fraud and phony. I was offended and dismayed what he said in the Access Hollywood tape. It's degrading to our wives, daughters, granddaughters and to future generations.
JERRY
Hold on there Jekyll and Hyde. You begged the Trumpster to make you his Secretary of State.
ROMNEY
We had dinner and discussed the job. I know he was uncomfortable when I said Russia was our number one enemy.
JERRY
Everyone saw the White House photos. You looked like a mouse being played with by a cat until you dropped dead.
ROMNEY
I confess. The night was like eating baked beans and holding in my farts. I was silenced into being loyal, because Trump gave me a pair of tickets to see The Book of Mormon.
JERRY
I understand you are considering running for the United States Senate in Utah in 2018.
ROMNEY
Since I was president of the Salt Lake Organizing Committee for the 2002 Winter Olympics, the people there love me.
JERRY
What about the 47 percent you insulted in 2012 by claiming they pay no taxes, depend on the federal government and see themselves as victims?
ROMNEY
I have plenty of work for them at my five houses.
JERRY
Isn't that a bribe?
ROMNEY
You call it a bribe. I call it business. My wife Ann can't lift the piles of money we accumulate every day.
JERRY
Hey Mitt, why can't you screw in a light bulb?
ROMNEY
I don't know.
JERRY
Because you can't decide which way to turn. See you tomorrow everyone.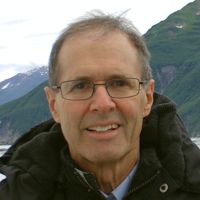 Latest posts by Dean Kaner
(see all)