ANNOUNCER
Live from under a rock in your backyard, it's The Jerry Duncan Show.
JERRY
Good morning listeners nationwide. Is it a good morning? We'll soon find out. We have some special guests. HUD Secretary Dr. Ben Carson, Minority Leader of the House Nancy Pelosi and former Governor of New Jersey Chris Christie.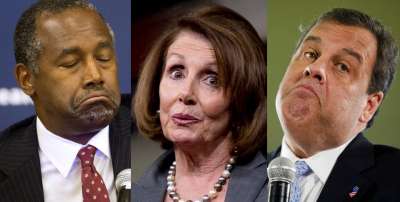 JERRY
I'm expecting a spirited debate about the State of the Union.
CHRIS CHRISTIE
Thanks for having us.
BEN CARSON
What do you mean us?
NANCY PELOSI
Chris is talking about the missing hitchhiker he swallowed.
CARSON
Oh.
JERRY
What is the state of the union?
PELOSI
Pathetic. People are working more than one job to make ends meet. Just look at the teacher strikes in Arizona, Colorado, Oklahoma and Kentucky. And yet, the president gave a tax cut to himself and his wealthy friends who don't need the money.
CHRISTIE
I disagree. What do you think, Ben?
Carson is snoring.
PELOSI
Wake up! I don't have all day.
CHRISTIE
Why? You have a makeover scheduled? Look, America is moving in the right direction. We are dismantling the EPA so we can have more coal plants and oil refineries. Creates jobs.
PELOSI
It pollutes the air and water. I caught a two-headed fish on a camping trip last weekend.
CARSON
Two heads, big deal. I separated Siamese twins.
JERRY
Wait a second, Sleepy. Didn't those twins die?
CARSON
Next question.
JERRY
Okay. Why are you qualified to run the Department of Housing and Urban Development?
CARSON
What's that?
JERRY
HUD.
CARSON
Now I know what you're talking about. Trick question, Duncan.
JERRY
No it isn't. Tell us why you're qualified.
CARSON
I lived in a ghetto.
Carson nods off. Loud snoring is heard.
CHRISTIE
That's like saying I can be in Bruce Springsteen's band because I've attended 141 of his concerts.
JERRY
Wow. You're a HUGE fan.
A door slams. House Speaker John Boehner enters with a six pack of beer.
BOEHNER
I'm back everyone.
JERRY
Oh man. It's John Boehner.
BOEHNER
And I'm mad as hell. Somebody stole my wine so I have to settle for beer. You know Gary, everyone needs to believe in something. I believe I'll have a beer.
JERRY
It's J-E-R-R-Y. Do you know what that word spells?
BOEHNER
Coors.
JERRY
The man is hopeless.
BOEHNER
(weeping) I started working in my dad's tavern when I was eight. I swept the floor, cleaned the windows and brought the empty liquor bottles to the dumpster. Of course I was responsible for some of those bottles being empty. I feel bad.
CHRISTIE
Don't. Do you think I feel bad because I ate all the donuts in the green room? It's survival of the fattest, my man.
BOEHNER
I didn't need to drink my old man's liquor. When I was an alter boy, I drank all the communion wine I wanted. Father O'Brien suspected the nuns. I fooled him every time.
JERRY
No wonder they call you Boner.
Carson wakes up from a deep sleep.
CARSON
(confused) It's not time for school, mommy.
JERRY
Hey Carson, where does an injured sandwich go?
CARSON
Urgent care?
JERRY
The 'Mayo' Clinic.
PELOSI
C'mon, there's no time to screw around. Trump is going to meet with Kim Jung-un and he's not prepared. Thinks the DMZ is a Korean rapper. Lord help us.
JERRY
I remember when the Trumpster was in Beijing last year. He asked President Xi if anyone served good Chinese.
CHRISTIE
You're making me hungry. Is it time for lunch?
CARSON
My watch says 8:30 a.m.
PELOSI
His stomach says noon.
BOEHNER
(burping)
Remember Larry. Pretty woman make us buy beer…ugly women make us drink beer.
JERRY
That's it for today. I'm going nuts. See you tomorrow everyone.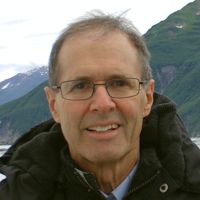 Latest posts by Dean Kaner
(see all)