Trump seeks advice from historical figures in hell who have 'done this stuff before.'
A White House staffer who wishes to remain anonymous has leaked some very disturbing news. There is serious concern among those close to the President that he has finally lost his grip on reality. This is due to his latest demand of Chief of Staff, John Kelly.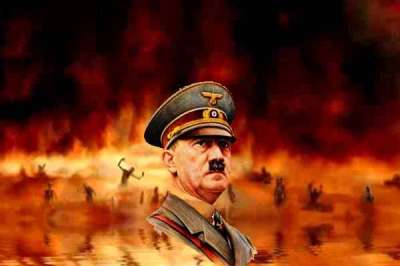 The real reason that President Trump is displeased with Kelly is that Kelly laughed when the President requested that he set up a direct hotline to hell — thinking, of course, that this was a joke. The President became furious, insisting that Kelly was being dismissive and disrespectful. Thinking this was part of an act to extend the joke, Kelly laughed even harder.
It was only when a red-faced Trump threaten to fire him on the spot that Kelly realized that the President was serious. Gaining his composure, Kelley assured the President that he would facilitate the process, but needed some more information to make sure he would make the correct connection.
President Trump explained that he needed the advice of "consultants" who he was sure were in hell to further guide his immigration policy and implementation. He wanted the phone to be 24 karat gold and sit on his desk in the Oval Office and to be wireless with a signal that could only be picked up in hell.
Deciding to humor the President, Kelly procured a phone to Trump's specifications and set up a couple of staffers in the basement who would answer the President if he called, pretending to be demon operators.
Kelly stood by as the President made his first call. Trump turned his back and murmured something into the phone so Kelly could not hear. In a few seconds, he turned around red-faced and started yelling in the phone.
"What do you mean they're both not available right now to talk to me!" he shouted into the phone. "Don't they know who this is?"
The President hesitated and regained his composure. "Okay, give them both this message. Tell Joe to call me back to talk to me about the Gulag and A. H. about the layout of the camps. Tell them when I'm done setting mine up, we can compare notes."
The President suddenly looked annoyed. "No, not when we meet up. Tell them not to expect me there. I never pay for anything I do."
The following two tabs change content below.

Diane de Anda
Diane de Anda is a third generation Latina and retired UCLA professor. Tired of cranking out technical articles in a "publish or perish" atmosphere, she now spends most of her time writing adult fiction, children's books, parody, and satire. Her weapon of choice is the limerick, aimed with humor and a touch of malice at society's icons, celebrities, politicians, and other irritating folk.

Latest posts by Diane de Anda (see all)