We pair the most appropriate dishes to cook with whatever is on that evening's fake news.
You've had a nerve-wracking day, posting dozens of screaming face emojis in response to social media rants from your fellow liberal East Coast elite. Who has the time, energy, or concentration to think about what to cook tonight?
Our newsletter takes the stress out of menu-making. We pair the most appropriate dishes with each Trumpista lying to you during what used to be the sacred dinner hour. Try not to lose your meal as you stare open-mouthed at your TV screen watching the evening's fake news.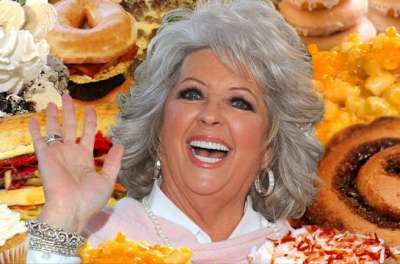 JEFF SESSIONS
As he drawls through his smirking misapplications of biblical verse to justify human rights violations that would make Duerte jealous, sit back and relax with Paula Deen's iconic recipe for hushpuppies with a side of racist jokes. Who doesn't need a good belly laugh these days? Drizzle liberally with CBD. When time allows, stir in a few snips and snails and puppy dogs' tails, because that's what little boys are made of.
SARAH HUCKABEE SANDERS
Go easy on the salt because SHA will leave you thirsting for real answers during her "press briefings." But come 6 PM, Sarah's home with her perfectly-Caucasian kids, ripping off her big pearls for a big ole Arkansas style family dinner featuring Craig Claiborne's deep fried catfish. Instead of the traditional side of okra, Sarah serves mac 'n cheese, the only thing her kids will eat, with Paul Ryan's whitest Wisconsin cheddar. Family dinners here are spirited affairs, serenaded by a whining puppy locked in a partition whose walls are made of chain-link fences while being housebroken. Pup will never see its mother again.
Contrast Sanders's hollow-eyed robotic support for #notyourpresident by feasting on a selection from Martha Ortiz's cookbook El Presidente Will Not Trespass in My Country or Stomach. Her mole rosado con pollo orgánico relleno y corono de flores is easily whipped up in fewer than three hours. Your furious chopping will drown out Sarah's mantra: "I'm not going to answer…"
MIKE PENCE
There isn't any special cuisine from Indiana that Mother would approve of, and besides, VEEP is opposed to advanced meal preparation or any phrase containing the word "planned." To make Mike's moony looks more palatable, we suggest this recipe by a rising trans chef whose plates showcase a rainbow of colors and textures with a final sprinkling of crushed Ortho-Novum.
KELLYANNE CONWAY
What to chew on while enduring the grating voice of this Irish and Italian mutt? Begin with a deft homage to her truck-business father: take-out from Sammy's Halal food cart on West 4th Street. Wash it down with Brut sparkling wine, a tip of the hat to Conway's maternal grandfather, Jimmy "the Brute" DiNatale.
On nights when you're feeling daring, try this alternative recipe for Irish-Italian fusion: overcooked Ronzoni spaghetti topped with mushy white potatoes, overboiled meat, and no vegetables. Sprinkle with fake Parmesan from a plastic container laced with wood pulp. Reduce sauce in a sixpack of Guinness. Salute or Sláinte, if you prefer.
SCOTT PRUITT (R.I.P.)
Finding nothing suitable in our archives, we created a brand new recipe: Global Warming Freeze-Dried Lamb Stew, simmered by a scorching winter sun rather than relying on greenhouse gases for cooking fuel. This savory concoction is unfortunately poached in toxic water containing hazardous chemicals and frighteningly large traces of arsenic, lead, and mercury. Be thankful for small things: it's chlorpyrifos-free!
DONALD TRUMP
Maybe the Liar-in-Chief dines on Big Macs, fries, and oversized sodas, but we food snobs can do better. Taunt Trump with Paul Bocuse's legendary loup en croûte with sauce choron. Our newsletter claims you can master this impossible dish in less than two hours from wolves bagged by Denali denizen Sarah Palin, but that's another lie. It takes a restaurant crew half a day to skin, butcher, cook, and sculpt this masterpiece. But if you rise to the challenge, by the time your loup is served, maybe Mueller will have finally charged #45. We can only hope and chew.
Latest posts by Candy Schulman
(see all)