Wherein our intrepid talk radio show host interviews Senator Diane Feinstein and Supreme Court Justice Brett Kavanaugh.
ANNOUNCER
Live from under a rock in your backyard, it's The Jerry Duncan Show.
JERRY
Good morning listeners nationwide. Is it a good morning? We'll soon find out. Today on the show my guests are California Senator Diane Feinstein and the newest member of the Supreme Court Justice Brett Kavanaugh.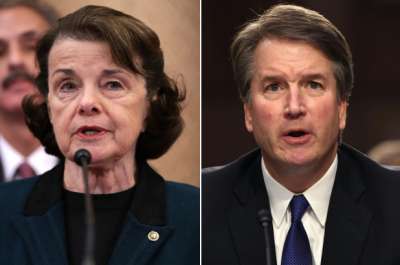 DIANE FEINSTEIN
Good morning, Mr. Duncan.
BRETT KAVANAUGH
Mind if I drink beer during the interview? I like beer. Do you like beer?
JERRY
No. I don't.
KAVANAUGH
I bet you smoke dope, Duncan.
FEINSTEIN
The only dope we're talking about, Justice Kavanaugh, is you.
JERRY
Listen. Wise guy. I still don't believe you have the temperament to be a Supreme Court Justice.
KAVANAUGH
Senator Collins said I did in her Senate testimonial about me.
JERRY
And her big nose grew bigger after she bored everyone to death.
FEINSTEIN
I can't tell if Senator Collins has a small head and a big nose or a big nose and a small head. It bothers me, so I've called for a Senate hearing on the matter.
JERRY
Christine Blosey Ford alleged that you tried to rape her in the 80's when you two were in high school.
KAVANAUGH
That was a political hit by Democrats and left wing activists. I never touched her.
JERRY
Silence. This interview will come to order.
KAVANAUGH
I'll have a cold Bud and pretzels.
FEINSTEIN
Bring me a corn beef sandwich with mustard on the side. Does it come with slaw and fries?
JERRY
Shut up, you idiots. Continue, Senator.
FEINSTEIN
As you know, I'm against torture. That's what three women have lived through the past three decades, because Justice Kavanaugh was a naughty boy. Alleged victim Julie Swetnick claimed you were spiking drinks in high school so girls couldn't resist.
KAVANAUGH
That's not torture.
FEINSTEIN
I know a little something about the word. I've been married three times.
KAVANAUGH
Okay, maybe one time. But I fell asleep, nothing happened.
FEINSTEIN
Alleged victim Deborah Ramirez said that you exposed yourself and thrust your penis against her face after drinking heavily at a college party in 1984.
KAVANAUGH
I was trying to get her attention, because she forgot her purse. Deborah should thank me.
JERRY
Many people said you were a sloppy drunk. An alcoholic if you will.
KAVANAUGH
That's a lie. Alcoholics need a drink, but I've always had one.
JERRY
Hey, Senator Feinstein. Why do nursing homes give Viagra to the old men every night?
FEINSTEIN
It keeps them from rolling out of bed.
JERRY
How did you know the answer?
FEINSTEIN
I sleep with an old man. I'm 85 years old.
KAVANAUGH
85? I'm 53. You're old enough to be my mother.
FEINSTEIN
Yes. And don't ever talk back to me or I'll wash your mouth out with soap.
JERRY
Justice Kavanaugh. Now that you're on the Supreme Court. I'm sure we can expect you'll strike down the Clean Act Regulation, give the president immunity from prosecution of the Russian investigation while he's in office. Certainly vote to overturn Roe v Wade.
KAVAUGH
Thank you for the reminder. I'll do all those things and whatever else my Lord Donald Trump wants.
JERRY
Brettster. Why doesn't a chicken wear pants?
KAVANUGH
No clue.
JERRY
Because his pecker is on his head just like yours. See you tomorrow everyone.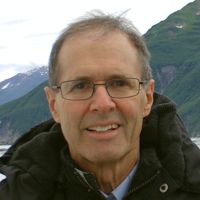 Latest posts by Dean Kaner
(see all)