Wherein our intrepid talk show radio host attends a White House New Years Eve party.
ANNOUNCER
Live from under a rock in your backyard, it's The Jerry Duncan Show.
JERRY
Good evening listeners nationwide. Is it a good evening? We'll soon find out. We are coming to you live from the White House ballroom for the first annual White House New Years Eve Party. There are hundreds of politicians and celebrities in attendance.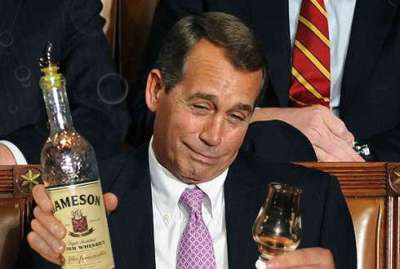 JERRY
Who do we have here? Why it's the former Speaker of the House John Boehner.
BOEHNER
(drunk) Happy New Year. Do you like beer? I like beer. My drinking buddy Justice Kavanaugh and I were really shocked tonight to find out Michelle Obama has a new book out called Becoming.
JERRY
Becoming what?
BOEHNER
Drunk. When she goes high, I go low. Nothing comes between me and my bottle.
PELOSI
Hello Jerry.
JERRY
Nancy Pelosi, you made it.
PELOSI
Hi Johnny. Did you see Stormy Daniels?
BOEHNER
No. I'm looking for Jack Daniels. So long folks.
PELOSI
I'm excited to lead the House. We have lots to do starting with impeachment. My 8-year-old grandson asks me every day if Mister Orange is still our president.
JERRY
Since Obama left office, Orange is the new Black. Boo-hoo.
PELOSI
I'll make you feel better. Would you like to hear a cute poem my Joey wrote?
JERRY
Sure.
PELOSI
Today the teacher farted,
It was an awful smell,
Like a rotting egg inside my nose,
Thank goodness, I was saved by the bell.
JERRY
Wow! That little fella is the next Maya Angelou.
PELOSI
Or Jerry Duncan.
JERRY
Even better.
PELOSI
I have to find my posse. Bye.
JERRY
Stormy Daniels. Thanks for stopping by.
Hey. Why couldn't the blonde bob for apples?
STORMY
It wasn't Halloween?
JERRY
No. Her sister was using the toilet.
STORMY
That makes sense.
STORMY
Duncan. Do you know if there is a pole around here? I wanna dance.
JERRY
Here's a guy that can help, President Donald Trump.
STORMY
He hates me.
TRUMP
No, no. I made a New Year resolution to love my enemies.
JERRY
Which is everyone on earth.
TRUMP
Fake news. I love money.
STORMY
Gee. Can you find me a pole so I can dance?
TRUMP
Absolutely. There's a fine gentleman from Warsaw who works at the Polish Embassy. He's over there schmoozing.
STORMY
That sounds so dirty. I love it!
TRUMP
Come with me. I'll introduce you.
JERRY
Mitch McConnell, everyone. The Senate Majority Leader.
JERRY
Senator McConnell.
MCCONNELL
Call me, Turtle. Everyone else does.
JERRY
Turtle. Isn't it great to see everyone getting along at this White House New Years Eve party? I saw Elizabeth Warren kiss the new House Minority Speaker Kevin McCarthy before she vomited.
MCCONNELL
I plan on censuring her when the new session starts.
JERRY
On what grounds?
MCCONNELL
She is introducing a bill that all turtles in captivity must eat organic lettuce. Do you know how much more that stuff is going to cost? My rich in-laws refuse to pay for it.
JERRY
What's wrong with eating bugs?
MCCONNELL
As I get older, it's harder to catch flies.
JERRY
Sorry to interrupt your deep thoughts. But here is former Attorney General Jeff Sessions.
SESSIONS
Hi Mr. Duncan. Hi Turtle.
JERRY
Bye Turtle. Time to go back to your terrarium.
JERRY
You were fired by Trump. Why would you even want to be here?
SESSIONS
What's the holidays without an Elf?
JERRY
I hear you're working for Santa Claus.
SESSIONS
Yes, sir. He gave me a new set of balls for Christmas. I'm finally doing good things in this world. Happy New Year, Mr. Duncan.
JERRY
Happy New Year everyone. See you soon.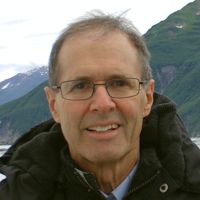 Latest posts by Dean Kaner
(see all)