Wherein our intrepid talk radio host interviews the Secretary of Education, Betsy DeVos.
ANNOUNCER
Live from under a rock in your backyard, it's The Jerry Duncan Show.
JERRY
Good morning listeners nationwide. Is it a good morning? We'll soon find out. Today on the show my guest is the Secretary of Education, Betsy DeVos.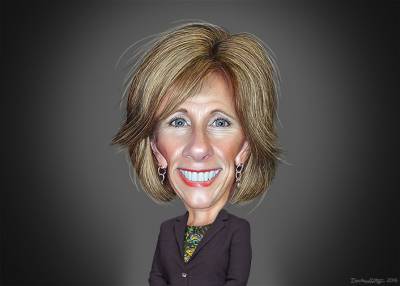 BETSY DEVOS
Good morning, Mr. Duncan.
JERRY
Hello Ditzy.
DEVOS
It's Betsy.
JERRY
Keep talking. Someday you'll say something intelligent.
DEVOS
I'm so proud to be the Secretary of Education.
JERRY
Knock, knock.
DEVOS
Who's there?
JERRY
Bored.
DEVOS
Bored who?
JERRY
Bored of education.
JERRY
Sorry. Continue your thoughts.
DEVOS
I feel our public school education is improving under my leadership. One kid told me that the reason fish are so smart is because they live in schools. I had no idea fish were in school.
JERRY
And they're coming to take me away ha-haaa. They're coming to take me away ho-ho, hee-hee, ha-haaa.
DEVOS
(worried) Should I call 911?
JERRY
I want to die peacefully in my sleep, like my grandfather. Not screaming and yelling like passengers in his car.
DEVOS
Did I miss something?
JERRY
A brain shall we say? Just recently you proposed cutting $18 million dollars for Special Olympics.
DEVOS
I had to say it. I was in a tree on the White House lawn and the president stopped by with a chain saw. He had a big stupid look on his face.
JERRY
So you caved in. You really don't like those kids.
DEVOS
I love them. Today a man knocked on my door and asked for a small donation towards a local swimming pool for Special Olympics.
JERRY
And?
DEVOS
I gave him a glass of water.
JERRY
You married into the Amway family of billionaires. Your old man gave $17 million to Republican candidates since 1989. Do you know the difference between Democrats and Republicans?
DEVOS
We have more money?
JERRY
Democrats remind us that life is unfair and Republicans make sure it is.
DEVOS
Very interesting. I'll have to thank the president.
JERRY
You know what else is interesting? Your Senate confirmation hearing when you suggested guns might have a place in some schools due to a threat from grizzly bears.
DEVOS
I misspoke. There is the exception. The Lord made one friendly bear named Yogi. But when he tried to make a second one, he made a Boo-Boo.
JERRY
You believe in school choice and vouchers at tax payer expense. You talk about parents picking schools like choosing Uber and Lyft.
DEVOS
Choosing a school should be convenient the same way Uber and Lyft disrupted the taxi industry.
JERRY
Oh yeah? When I take Uber, I make sure that I bring my dental records along.
DEVOS
Now you got me worried, Duncan. I got my teeth from Amway. They don't keep records.
JERRY
You said free school lunches are a joke. In reality, they're the only meal for many impoverished children. I was one of those kids. I came from a real tough neighborhood. One day, I put my hand in some cement and felt another hand.
DEVOS
Well I had it rough, too. When I played in the sandbox, the cat kept covering me up.
JERRY
Not surprising. You're so scary-looking that even Hello Kitty said good-bye.
The phone rings.
JERRY
Excuse me. It's Senator Elizabeth Warren calling.
JERRY
Okay Senator, I'll put you on speaker.
WARREN
(angry) DeVos, you're a sorry ass excuse for the job! America is failing our public school teachers. Low wages, cuts to school funding, teachers taking second jobs, teachers spending their own money on school supplies. What do you have to say for yourself?
DEVOS
(excited) I'm going to Disneyland!
JERRY
See you tomorrow everyone.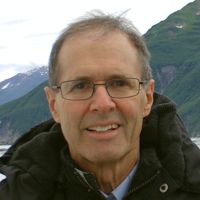 Latest posts by Dean Kaner
(see all)