Wherein our intrepid talk radio show host interviews Russian President Vladimir Putin and U.S. President Donald Trump.
ANNOUNCER
Live from under a rock in your backyard, it's The Jerry Duncan Show.
JERRY
Good morning listeners nationwide. Is it a good morning? We'll soon find out. Today, I'm pleased to announce that my guests are the President of Russia Vladimir Putin and his intern Donald Trump. Er, President of the United States.
JERRY
Good morning, President Putin.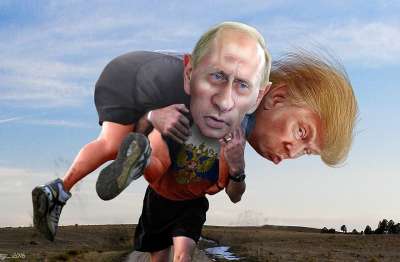 VLADIMIR PUTIN
Morning nice, Duncanova. I arrest if interview bad.
DONALD TRUMP
Tough, tough man. I always tell everyone to visit Russia before Russia visits you.
JERRY
Putster. I heard rumors you are thinking about going back to Marx.
PUTIN
Communism better system. Marx genius. Only leader have money.
TRUMP
Who's your favorite Marx — Groucho or Chico?
JERRY
You idiot. It's Karl Marx, the Commie.
TRUMP
I knew that.
JERRY
No. You didn't. Lie number 10,307.
TRUMP
People say I act like I don't care. It's not an act.
JERRY
Putster. You have a big parade planned for May in Moscow.
PUTIN
Yes. We have 75 year since end of World War 2. I invite Trump.
TRUMP
And I accepted. I'll be on the reviewing stand between Kim Jong-un and Putin.
JERRY
Hey, Trumpster. Why do dictators like to go shopping in the early morning?
TRUMP
No clue.
JERRY
Because they love to beat the crowds.
TRUMP
Very bad. Very bad.
JERRY
How was the G20 summit?
TRUMP
We discussed the GDP with all the world leaders. 85% of the world's wealth comes from 20 nations. The rest are losers.
PUTIN
Good meeting. I learn about banks. Did you know frogs deposit money in river bank?
TRUMP
Wow. I think I'll do money laundering there. Those banks must be hopping.
JERRY
Putster. Do you promise you won't meddle in the U.S. elections in 2020?
PUTIN
(laughs) I put petal to the meddle.
TRUMP
Russia, if you're listening.
PUTIN
We are.
TRUMP
Help me..help you. Help me, help you.
JERRY
Hold on, Jerry McGuire. I'm face timing Bernie Sanders. He's very upset.
JERRY
There you are, you old geezer. What's on your mind?
SANDERS
Some blintzes and a knish from Junior's Deli in Brooklyn.
JERRY
C'mon.
SANDERS
First, Trump is undermining our democracy with Putin's help.
TRUMP
Fake news.
SANDERS
Second, he is enriching himself and his wealthy cronies at the expense of the American taxpayer.
TRUMP
Whenever you feel stupid, just remember. Someone out there is voting for Bernie Sanders.
SANDERS
Third, Trump has no health care plan. 20 million Americans will lose coverage.
TRUMP
Bernie is so old, the back of his head looks like a raison.
SANDERS
Fourth..
JERRY
Interview over, Professor Einstein.
PUTIN
Wait, Duncanova. Man who sit on tack gets point.
JERRY
See you tomorrow everyone.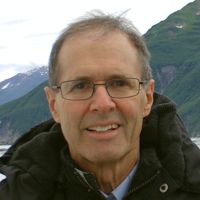 Latest posts by Dean Kaner
(see all)