Wherein our intrepid talk radio show host interviews some Democratic candidates running for president, live from the Iowa State Fair in Des Moines.
ANNOUNCER
Live from under a rock in your backyard, it's The Jerry Duncan Show.
JERRY
Good morning listeners nationwide. Is it a good morning? We'll soon find out. Today we're live from the Iowa State Fair in Des Moines and will be interviewing some of the Democratic candidates running for president.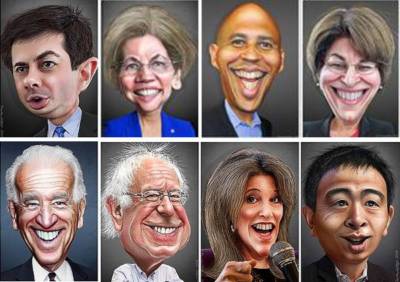 SENATOR AMY KLOBUCHAR
Welcome to the Midwest, Jerry. As you know, I'm the northern neighbor from Minnesota.
JERRY
Hey, Senator. Do you know why Minnesota grads keep their diplomas on their dashboards?
KLOBUCHAR
Why?
JERRY
So they can park in handicap spaces.
KLOBUCHAR
And that's why every American needs an opportunity to get an education starting in preschool. I turned out to  be very educated. When I was a little girl, my father gave me a math problem I'll never forget. If I have 4 beer bottles in one hand and 3 beer bottles in the other hand, what do I have?
JERRY
A drinking problem.
KLOBUCHAR
All these years I thought the answer was 7. Thank you for correcting me.
JERRY
Here's Senator Cory Booker. What's that grease all over your face?
SENATOR CORY BOOKER
It's an Iowa State Fair favorite. I was eating pork chop on a stick. He who eats the most pork chops wins Iowa.
SENATOR BERNIE SANDERS
Hold on, Curly.
BOOKER
You talking to me?
SANDERS
(sarcastic) No. I'm talking to Michael Jordan.
BOOKER
Yeah. My head is shiny. If you look closely enough, you can see the reflection of your ugly face.
SANDERS
Jerry. If my old man was alive and saw me eating pork chop on a stick, he would have kicked me in the rear so hard that my buns would have been scattered over Canada. What Iowans care about are healthcare, education and good jobs.
BOOKER
And pork chop on a stick. Oink oink. Oink oink.
JERRY
Bye, Cory. Here comes Author Marianne Williamson
AUTHOR MARIANNE WILLIAMSON
Hi Jerry.
JERRY
Here's something to think about in your convoluted mind. A hippy walks into a bar. What does the bartender say?
WILLIAMSON
Show me your identification?
JERRY
Sorry. We don't serve free spirits.
WILLIAMSON
You really think I'm a free spirit? Well, maybe you're right. Last week I was at a restaurant and told the waiter I was allergic to gluten, dairy and nuts. Then added I was a vegan.
JERRY
What did he say?
WILLIAMSON
Get the hell out of here.
WILLIAMSON
Like a true Nature's child, I was born. Born to be wild.
JERRY
Be naughty, Marianne. Save Santa a trip.
JERRY
Look who we got. It's Senator Elizabeth Warren. I'm going to cut to a commercial.
SENATOR ELIZABETH WARREN
Wait, Duncan! I want to take you behind the barn and practice my karate.
JERRY
I'm not scared of an Okie. Do you know the most popular pick up line in Oklahoma?
WARREN
No.
JERRY
Nice tooth.
WARREN
You creep. I'm gonna kick your nuts out, so Marianne Williamson can have lunch.
ENTREPRENEUR ANDREW YANG
Sorry to interrupt. May I say a few words?
JERRY
Who are you?
YANG
Andrew Yang. I'm running for president.
JERRY
Sure. And I'm the Pope.
YANG
C'mon. You've seen me on TV.
JERRY
Are you the guy that writes sayings for fortune cookies?
YANG
Sure. Open up this cookie, Duncan.
JERRY
Will something bad happen?
YANG
Read it.
JERRY
It says, Your pet is planning to eat you.
YANG
Funny. Right?
JERRY
Man who scratches rear should not bite fingernails.
YANG
Listen, Duncan. I want to give you and every American over eighteen, $12,000 to spend in the economy. And free marriage counseling after your wife spends the money on jewelry.
JERRY
I'm not married.
YANG
I figured.
JERRY
I'll pretend I didn't hear that Mr. Yin.
YANG
It's Yang.
JERRY
Okay, Yin Yang. Bing bang. See you tomorrow everyone.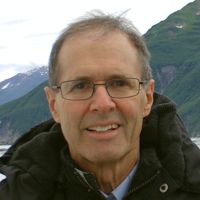 Latest posts by Dean Kaner
(see all)