Trump claims he has photographic evidence of "Hollywood collusion," proving the Mueller hearings were "fake news."
Donald Trump today doubled-down on his claim that the Mueller hearings were nothing more than "fake news," producing actual photographic "evidence" of what he called "Hollywood collusion."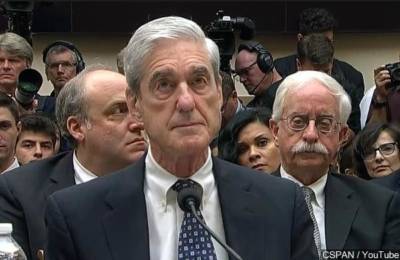 "You can see right there, it's Wilford Brimley just behind Mueller," Trump explained, "And isn't that Vic Tayback from TV's 'Alice' behind him as well? And what about Mindy Kaling there in the background? I wouldn't even be surprised if it was DeNiro himself playing Mueller!"
When informed that Tayback was dead Trump replied: "Good! Serves him right for making me look bad!"
Trump also expressed his disappointment with Brimley. "I thought he was supposed to be a Quaker!" the president complained.
DeNiro, when asked to comment, simply stated that he knows Raging Bull when he sees  it.
The following two tabs change content below.
I was born a young baby. Then I grew up. Then I grew confused. Then I grew tired. I'm a 20th century man who's somehow been transported to the 21st century, with one foot in the gone past and the other in the here now. I started my blog mymanymoodsofme toward the end of 2012. There I write humorous essays, stories and poems (lyrics from my songs), in addition to my aphorisms. It's good work... if you get it. In my spare time I play chess, write songs, and reflect upon what I see. I'm very happy to be colluding with Humor Times, and hope you enjoy the result. Cheers!
Latest posts by Ralph Lombard (see all)