Wherein our intrepid talk radio show host interviews former Secretary of State Dr. Henry Kissinger, on his 100th birthday.
ANNOUNCER
Live from under a rock in your backyard, it's The Jerry Duncan Show.
JERRY DUNCAN
Good morning listeners nationwide. Is it a good morning? We'll soon find out. I have a special guest today, former Secretary of State Dr. Henry Kissinger.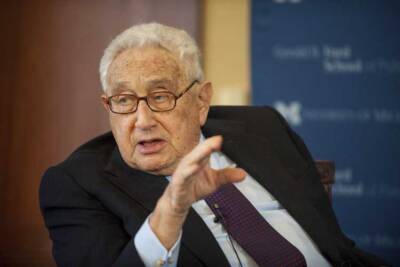 JERRY
Hi big fella. Hey, you have a 100th birthday coming up May 27.
HENRY KISSINGER
(German accent) I know. The candles cost more than the cake. Oh vell. How var you?
JERRY
Miserable as usual.
KISSINGER
(chuckles) Is your glass half full?
JERRY
No. It's empty like your head. Let's discuss the state of affaires in the United States. We have President Biden running for re-election who is 80 years old, Trump interfered with the results of the 2020 election, and the country could be on a collision course with China over Taiwan.
KISSINGER
Vell. Let me answer the most important ting you mentioned. Former President Trump is a criminal. He needs a psychiatrist, because he's nuts. Trump tinks the guy running the Vhite House is a bad actor. That it's all fake news. Am I making sense?
JERRY
No, but what the hell. You're a doctor.
KISSINGER
I'm not a medical doctor.
JERRY
You might as well be a proctologist. You've met a lot of assholes in your life.
KISSINGER
Including you my friend.
JERRY
I'll pretend I didn't hear that.
JERRY
What was it like working for President Richard Nixon? Another scandal ridden White House.
KISSINGER
I don't vant to compare Nixon and Trump. It's an apple and an orange.
KISSINGER
Ah, Nixon. Ve vere nervous during Vatergate. There vas the burglary into the Democratic National Committee headquarters in 1972 to get dirt on candidates running against Nixon in the presidential race. At that time, I had no idea he vas behind it. This dragged on for two years until Tricky Dick got caught.
JERRY
What was he thinking?
KISSINGER
I remember in 1974 Nixon vanted me to pray vit him, though neither of us believed in God. He vas messed up. Tought the Canadians vere going to invade the United States. Told me The Beverly Hillbillies vere liberal Democrats.
JERRY
Watergate is stamped on his forehead forever.
KISSINGER
No. It's on his nose vich grew 6 inches overnight after Nixon said he vas not a crook.
JERRY
You were in the Battle of the Bulge during World War 2 and earned a bronze star.
KISSINGER
I did.
JERRY
Speaking of the Battle of the Bulge, you're still fighting the war.
KISSINGER
Vhat?
JERRY
It's a joke. Bulge? Big tummy?
KISSINGER
Vell. I do like Dunkin Donuts tvice a day vit my milkshakes.
JERRY
You have a PhD from Harvard. Been a foreign policy advisor to presidents from Nixon to Biden. Gave the Trumpster some important advice.
KISSINGER
I varned him to be careful of the Reds.
JERRY
The Russians?
KISSINGER
Dat's vhat I meant.
JERRY
And what the did the moron say? He agreed. Right?
KISSINGER
Not exactly. Trump told me dat he tought the Dodgers vere a much better team. Good pitching, excellent hitting.
JERRY
You've had so many achievements. True or false. You negotiated the SALT Treaty with the Soviet Union in 1970 to limit nuclear arms.
KISSINGER
True. I'm sentimental. Arms are for hugging.
JERRY
(fake cry) Boo-hoo, boo-hoo. Arms are for hugging.
JERRY
You started the opening for diplomatic relations with China in 1971. Negotiated the Paris Peace Accords ending our involvement in the Vietnam War in 1973.
KISSINGER
I'm incredible.
JERRY
Not quite fella. You dated actress Shirley MacLaine. What a goof!
KISSINGER
True. Ve meditated on our first date for five hours before she told me dat I vas her reincarnated dog Jack. She then let me out the back door to go potty. A meshugana.
JERRY
You said Israeli Prime Minister Golda Meir was hot.
KISSINGER
True. Egyptian President Anvar Sadat and I vere stoned vhen I made that comment after a reporter found us roller skating in his closet.
JERRY
Do you travel?
KISSINGER
Travel? Sure. From the bedroom to the bathroom. Sometimes from the bedroom to the kitchen. Other  times, the living room to..
JERRY
In other words, your poor wife Nancy wants to kill herself. Ever leave your apartment?
KISSINGER
I get out. Have you been to Kentucky Fried Chicken?
JERRY
You mean Karen's Fat Children. This is the scoop I've been waiting for today?
KISSINGER
Speaking of scoops. Vere's dat double chocolate svirl you promised me from Dairy Qveen?
JERRY
I lied.
KISSINGER
Oh darn. I brought my bib.
JERRY
One last question. Who is crazier Trump or Kim of North Korea?
KISSINGER
Vell, I'd say they're both scary. Trump vants to make nuclear veapons more useable, and Kim vants to blow up countries for shits and giggles. Jerry, before I forget here's a joke.
JERRY
Lay it on me.
KISSINGER
Vhat is the difference betveen George Vashington, Richard Nixon, and Donald Trump?
JERRY
I'm clueless.
KISSINGER
Vashington couldn't tell a lie, Nixon couldn't tell the truth, and Trump doesn't know the difference.
JERRY
Happy birthday, Henry. You can have your cake and eat it, too. See you tomorrow everyone.
KISSINGER
Vere's my double chocolate svirl you promised? I can't eat cake vitout ice cream.
The Jerry Duncan Show
(c) Dean B. Kaner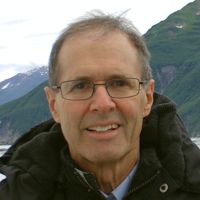 Latest posts by Dean Kaner
(see all)