Wherein our intrepid radio talk show host interviews former White House advisor Jared Kushner.
ANNOUNCER
From under a rock in your backyard, it's The Jerry Duncan Show.
JERRY DUNCAN
Good morning listeners. Is it a good morning? I doubt it. Today on the show my guest is former White House advisor Jared Kushner.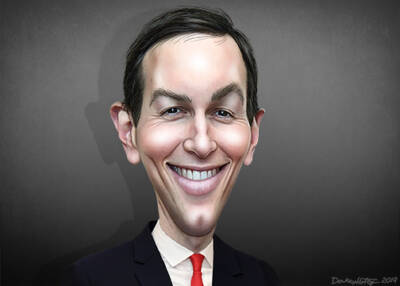 JERRY DUNCAN
Good morning, Jared.
JARED KUSHNER
I'm rich and you're not. Nah, nah, nah, nah, nah.
JERRY
It's dirty money, Slim Reaper. The Kushner Companies were a crooked enterprise. Your daddy Charles went to federal prison in Alabama for 14 months for illegal campaign contributions, tax evasion, and witness tampering in 2005. It was federal prosecutor Chris Christie who put him in the slammer.
JARED
I'll never forget that tub of lard. I cried myself to sleep every night.
JERRY
Because your old man was in prison?
JARED
No. Dad hid all our money and wouldn't tell anyone where to find it.
JERRY
You're 42 years old. Graduated from Harvard.
JARED
I'm smart.
JERRY
Hold on there, Slick. Your old man gave $2.5 million dollars to Harvard a year before you were accepted. Coincidence?
JARED
No. And I don't get why money is such a taboo for college entrance. It would be much easier if they accepted a bribe and were grateful.
JERRY
It was your father who taught you how to be a con.
JARED
Con? I'm the most honest person you'll ever meet.
JERRY
Oh really? You married Donald Trump's daughter Ivanka in 2009 so you could hob knob in high society. Leveraged several properties, losing millions of dollars. Joined the Trump presidential campaign in 2016 where you met with Russian officials to get dirt on Hillary Clinton. Took $2 billion dollars from Saudi Arabia for you new investment company in return for special access to Trump when he was president.
JARED
Hold on, Duncan. I'm a good guy. I give money to charity. Last year I won the lottery for a million dollars and donated a quarter of it. I now have $999,999.75.
JERRY
Your wife Ivanka is also a crook. After Trump became president in 2017, he hosted a dinner at Mar-a-Lago for China President Xi Jinping Pong. A day later, Ivanka got a sweetheart deal to sell her Trump brand of jewelry, clothing, and handbags in China. Did we get anything from the Chinese in return?
JARED
COVID.
JERRY
When you joined the White House, you were supposed to divest from the family business, but didn't. Peddled your influence by getting people to invest in your properties.
JARED
(evasive) Next question.
There is an interruption on the line.
JERRY
Who is this? Identify yourself, sir.
DONALD TRUMP
I'm Donald J. Trump.
JERRY
If you are Donald Trump, what does the J stand for?
TRUMP
Jerk.
JERRY
Yep. You're the Trumpster.
JARED
Hello my unfavorite father-in-law.
DONALD TRUMP
Let me do the talking, Vanilla ISIS.
TRUMP
What do you want to know, Duncan?
JERRY
Let's start with the 91 felony charges against you to overturn the 2020 presidential election.
TRUMP
It's a lie. A Fox News poll said 1 out of 3 Trump supporters are just as stupid as the other 2. I like stupid people. I'll beat the charges with their help.
JERRY
Wrong. There's a good chance you'll go to prison in Georgia. Fulton County District Attorney Fani Willis has you by the balls on a Rico charge. There's overwhelming evidence you threatened government officials if they didn't find enough votes to overturn the state election results.
JARED
Father-in-law. I told you to be nice to Puerto Rico.
TRUMP
Puerto Ricans love me. The other day I went to a Puerto Rican restaurant in the Bronx. Only one problem. The pork was so raw, it was singing Hakuna Matata. Very bad, very bad.
JERRY
I must say, I'm excited for all your trials to start. Though there's always a chance you could win one of them. Last month, a banana in New York City won his case on a-peal.
TRUMP
Like a banana. I'm a very stable genius. Very stable.
JERRY
Jared Kushner and Donald Trump everyone. See you tomorrow.
The Jerry Duncan Show
(c) Dean B. Kaner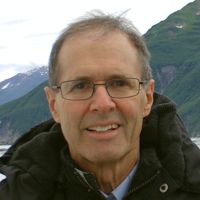 Latest posts by Dean Kaner
(see all)