Hip-Hop production company helps ISIS get down
Not just content with being CNN's favorite topic of discussion, the Islamic State of Iraq and Syria (ISIS) now possess the best public relations personnel imaginable.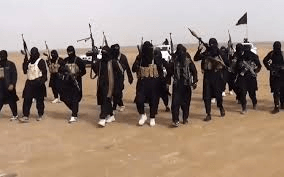 After recently releasing a new episode in a video series called Sweetie-tweets, one depicting an ISIS member visiting injured fighters in a hospital and offering them ice cream, the insurgents have enlisted the services of a producer to improve the "artistic quality" of their studio work.
Let's be honest, what are you more likely to click on? President Obama harping on about the Islamic State before he returns to asking a trespasser to kindly leave his office … or an innocent man on his knees, in a very unfashionable jumpsuit, with a fanatic, ninja-like nut-job standing menacingly next to him, weapon ready to perform an act straight out of a Quentin Tarantino film?
Probably the latter, right?
One of the men behind this choice is Mike WiLL Made-It, a 25-year-old Atlanta native, one of hip-hop's most ubiquitous producers. After producing hits for Lil' Wayne, Drake and 2 Chainz, he has recently signed a lucrative contract with ISIS, one that now sees him lend his ingenuity to producing top notch, all alluring, propaganda fueled videos.
In addition to the blatant, fallacious messages, the videos boast strikingly high production quality and impressive background beats. Shot in HD, these videos include sophisticated graphics and logos, enticing messages and very attractive backup dancers. The message, like the accompanying music, is direct and clear: "You mess with ISIS, you best be ready for a Crisis."
One video, entitled "Blurred Lines; Volume 2," shows an ISIS fighter beatboxing and breakdancing across the Iraqi/Syrian border. Over Mike WiLL Made-It's production, the melodic mercenary raps, "We don't recognize American rule, listen up, Obama, you're a god damn fool."
All of these videos are distributed by Al Hayat Media Center, the new ISIS media arm, supposedly funded by Donald Trump.
Latest posts by John Glynn
(see all)