Jogger insists his attraction to David Cameron was "not political, just deeply sexual"
A member of the public who caused a security alert when he bumped into David Cameron, the UK Prime minister, said he "wanted to kiss that man so badly for the last five years."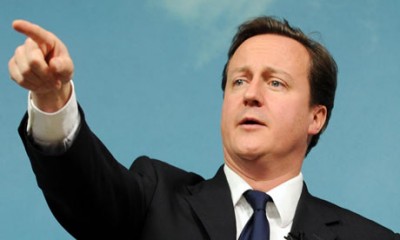 Dean Farley, a raving homosexual from Leeds, England, said he was obsessed with Mr Cameron, even revealing an intimate tattoo of the politician firmly inked on his left butt-cheek.
He insisted he was "not political, just deeply sexual" and wanted nothing more than to "make love to David one day."
David Cameron has downplayed the incident, now the subject of a police review, saying, "I am happily married, but thank you, Dean."
The PM, visibly shook, was quickly driven away from the clearly aroused Farley.
After the encounter, which took place outside the Civic Hall in Leeds, West Yorkshire Police said, "Apart from the public erection displayed by Farley, nothing sinister had taken place," however, the Metropolitan Police, which provides personal security for leading UK politicians, said there would be a review of the incident.
The incident comes just one week after Boris Johnson, the Mayor of London, was sexually assaulted in a taxi outside The Royal Oyster, a seedy nightclub located in Soho.
The irony lies in the fact that the prime minister was in Leeds to launch a public awareness campaign regarding erectile dysfunction in the UK.
A member of Mr Cameron's security team intervened, bravely throwing himself in front of the pointed weapon.
Farley, a 28-year old hairdresser, said he was on the way to Pilates for a session with his personal trainer when he crossed the road outside the council building.
"I couldn't believe it, there was Dave, the hunk."
To conclude the interview, Farley added: "It begs the question — how good is David Cameron's security if I managed to almost kiss him?"
Latest posts by John Glynn
(see all)