The move is seen as good TV ratings strategy for both the NFL and PGA.
CULVER CITY, CA — In a move that both parties say has secretly been in the making for over a year, the Professional Golfers' Association of America (PGA) and the National Football League (NFL) issued a joint statement today defining plans to swap rules of player contact beginning next Fall.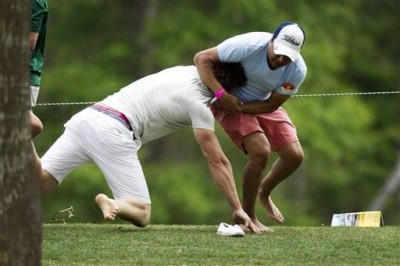 The new rules will allow professional golfers to tackle and block on fairways and excessively celebrate on the tees and greens, while professional football players will now be required to form "galleries" at the sidelines while one player at a time conducts a play.
"It's been coming for a long time," NFL Commissioner Roger Goodell stated at a joint NFL/PGA news conference at NFL Headquarters in Culver City, CA. "With all the rules restricting the most effective types of blocks and banning contact with the quarterback and so forth, we felt it was best to completely eliminate contact altogether so nobody ever gets hurt. We just feel that the no-contact model is the best fit for the new NFL."
PGA Commissioner Tim Finchem said his organization was thrilled to acquire rights to NFL contact rules. "This is huge for the PGA. Our traditional fan base is paunchy, middle-aged Republican males. We think a little blood and a few broken bones will draw a lot of younger, more liberal fans to the game. We're excited."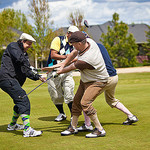 The new NFL rules stipulate that the teams will form a "gallery" along both sidelines as one player at a time kicks, throws or runs the football down the field of play. The number of attempts required to score a goal will be recorded, and the ball will then be turned over to the opposing team to score. After a number of goals that is still to be determined, the team requiring the fewest attempts to score all goals will be declared the winner.
Talks are still ongoing between the league and the NFL Players' Association (NFLPA) and NFL Referees Association (NFLRA) regarding the number of goals per game. Representatives from both associations advocate for ten or fewer goals, but the NFL says that television advertising sales require at least fifteen, preferably twenty goals to maintain current revenues. The NFLPA has threatened to sue.
NFL players' reactions are almost evenly split, the dividing line seeming to mirror players' assignments. Most offensive players applaud the new rules, while defensive players are almost universally opposed.
Cleveland Browns Quarterback Johnny Manziel called the announcement a 'godsend,' while Detroit Lions defensive tackle Ndamukong Suh, whose full response cannot be printed, made several references to little girls and 'sissy-boys' and said that it "might be time to take the NFL to the parking lot man. F*** this."
The PGA says it will maintain its traditional eighteen hole format, but will introduce full contact between players, limited to fairways only. Players will race down the field of play and try to get their own shot off before other players in the group can stop them by whatever means necessary. Contact using clubs is prohibited for safety reasons, and players will be required to wear helmets and mouth guards.
PGA officials say they also adopted the NFL's "excessive celebration" practices to make the game more exciting to the younger fans they hope to attract. "Some of these [players] have some great moves," PGA Vice President of Media Paul Johnson explained. "Rory [McIlroy] and Rickie [Fowler] can flat out get down. I've seen them in the clubhouse. Tiger [Woods] has toned his jiggy down a lot in the last couple of years, but we still look for some good stuff from him if he ever makes a shot."
PGA players seem largely in favor of the new rules. An informal survey of Twitter responses by tour players showed almost unanimous agreement, with an overwhelming number referring to Woods, the former number one-ranked player in the world.
The new PGA rules will not apply to the over-50 Champions Tour, but some senior players say they would like the tour to consider a similar rules change. However, most senior players suggest black-shirting legends Jack Nicklaus, Arnold Palmer, Gary Player and Tom Watson, among others, citing their age. 'Black-shirting' refers to the practice of making certain players wear a different color shirt to mark them as illegal to hit.
The rules are set to be implemented for the NFL starting with the 2015 season. The PGA rules will take effect in 2016.
Many NFL fans are threatening to boycott professional football if the rules are implemented, while golf fans are responding with enthusiasm.
Most golf courses hosting PGA tour events are set to begin installing more rock walls and thorn-bearing plants next Fall to facilitate what they refer to as the "fun factor." NFL stadiums will remove players' benches and increase the depth of the sideline areas so players can spread out blankets more comfortably.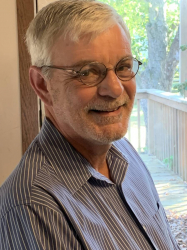 Latest posts by David Suter
(see all)