Swedish sexologist believes porn should be shown in the classroom
A leading Swedish sexologist believes pornography should be shown in the classroom. Hampas Spjutbjörn claims that school based debates about the industry could help teenagers "arouse their minds, not just their genitals."
"It's important to differentiate between pornography and the reality of sexual relationships. Your average male isn't endowed with a penis more suited to a horse, for example," stated the Swede.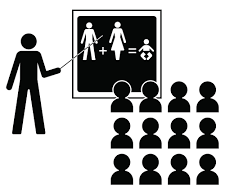 A researcher at the University of Malmo, Spjutbjörn caused a furor in Sweden when he suggested on Hard Talk, the much loved evening news show, that pornography should be shown on a daily basis in schools. In his opinion, this was preferable to sex education classes that were "lacking depth and relevancy, especially when a frumpy, 60 year old simply rolls a condom onto a cucumber."
Sweden, a country renowned for its sexual permissiveness, could very well adopt this controversial proposal, perhaps viewing it as a sensible way of teaching teenagers about the distinct differences between porn and real sex.
"My proposal involves critically discussing pornography with the youth, maybe start with 5th and 6th graders, work our way up the chain from there. This sensible, didactic strategy would need to be carried out by trained teachers, or pornography veterans with legitimate teaching credentials," he told Hard Talk.
"We know from thorough research that a vast majority of porn is highly addictive, I spent seven straight hours researching yesterday. fully engaged in my duties. In fact, I forgot to pick up my kids up from school. That is how 'in the zone' I was, although I'm exhausted now," stated the father of three.
"Teenagers view porn at an early age, I started watching when I was seven or eight – so it's not a question of introducing youngsters to porn," he added. According to one Scandinavian based study, 99% of boys and 97% of girls in Sweden have already seen pornographic films by the time they're 12. Spjutbjörn wants to make sure youngsters "possess the necessary faculties to view porn constructively and appropriately."
"We should endeavor to strengthen their knowledge. Put down the hand lotion for a minute, let's distinguish between the media's depictions of sex and the everyday life of an average, moody, spotty teenager. While the youth are obsessed with crude videos involving creampies, many of their sexual experiences are more akin to American Pie."
Sex education has been mandatory in Sweden since 1920 and several Swedish schools have already included pornography in their curriculum. "Many schools interpret the national guidelines very differently," says Spjutbjörn, "so it's vital that education meets certain quality standards all over the country. Teachers need to be retrained and  educated on certain terms like 'scissoring' and 'money shot.'"
Obviously excited by the idea, Spjutbjörn continued, "porn offers a variety of entertaining and educational properties. I have seen some great videos involving unorthodox job interviews, for example. This can teach kids to think outside the box, and I want our youth to have exciting and gratifying sex lives; in elevators, Jacuzzis, wherever they wish, maybe even in an actual bed."
A similar scheme was suggested in Ireland last week. Sexual health charity GRIND, Gender Roles in Ireland Needlessly Discussed, issued new guidelines for sex education in schools including classroom debates on the dangers of "sexting" and re-enactments from the movie 50 Shades of Grey.
Latest posts by John Glynn
(see all)