Obsessively tracking UPS Tracking
Sherry Stacey loves online ordering. The minute an online retailer sends her a UPS tracking number, she immediately goes to the carrier's order tracking webpage and starts refreshing the page to get up-to-the minute delivery information.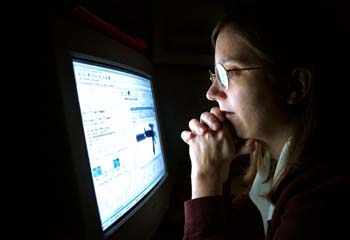 "If I pay good money to get a product delivered to me, I want to see who sends it, where it's at, what's being done to it … all in real time," Stacey said. "If it means calling off work, then it's worth it to make sure my package is delivered to me between the hours of 8am and 8pm."
If Stacey's package does not come in the allotted time, she is immediately on the phone with online retailers and UPS demanding to know where her package is.
"It's my right as an American and a taxpayer to know what's happened to my order if it doesn't get here in time," Stacey told this reporter. "It's not my fault if the UPS driver doesn't know the English language and only speaks Swahili or whatever. UPS should hire AMERICAN drivers. I want what I paid for … NOW!"
Sherry Stacey loves tracking her online orders so much that she has a UPS tracking number tattooed on the back of her neck. "It was my favorite online order ever, a pair of boots that looked so cute with a dress I ordered. The transaction went so well and I received my order so fast that I decided to memorialize it on me forever. I'll never forget UPS tracking number 1Z4342348798734," she said.
When asked if she'd consider getting another UPS tracking number tattooed on her person, Sherry smiled and said, "It's unlikely, a lot of online retailers and UPS seem to have more Swahili employees these days. I can't even get an American customer service agent on the phone if my order is late. These Swahilians are taking over!"
As of this writing, Ms. Stacey ordered a Fitbit from Amazon, selected one-day shipping, and immediately started refreshing her Amazon order page to get tracking information.
"I paid good money for this thing, if it doesn't come tomorrow, I'm going to send a very angry letter to the king of Swahili or wherever these customer service people come from," Stacey said.
Good news: Today, Sherry received her Fitbit between the hours of 8am and 8pm.