Brian Williams' highly anticipated autobiography will be found in the fiction section.
Shortly after being suspended by his employer, NBC, US news anchor Brian Williams announced that he would begin work on his autobiography. Insincerely Yours is due for release this December.
Criticized for his account of dodging bullets and being water boarded in Iraq, NBC suspended Williams for six months without pay, citing his "unfathomable ability to bullshit" as the underlying reason for the decision.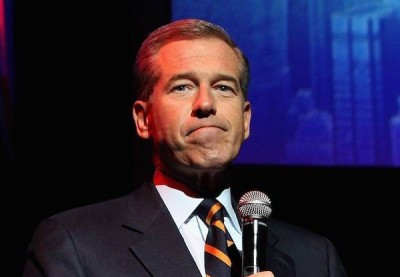 Williams, twice voted the most trustworthy news anchor in America, often spoke about his experiences of torture in Iraq. After veterans rubbished his accounts, however, he admitted confusing reality with fantasy and blamed the tales on his love of "red wine and Xanax."
Sullen-faced and clearly shamed, Brian Williams apologised on air for his deception: "I made a mistake in recalling the events of 12 years ago," he said. "I want to apologise. I said I was travelling in an aircraft that was hit by RPG [rocket-propelled grenade] fire. I said that I was captured and tortured for 47 days. In fact, I wasn't even in the air at the time of the events, I was in the hotel sauna. The only injury I received was a badly bruised ego."
Deborah Turness, the president of NBC News, called Williams "the human equivalent of a manure spreader." "It has become clear that Brian has used his torture tales as a party piece. In 2013, much to our dismay, he gave talks at Berkley and Harvard, telling faculty members and students all about 'games' of Russian roulette with Iraqi terrorists. This was wrong and completely inappropriate information. The only roulette he ever played was at a poker night I hosted last year, and he was shit. Oh boy, was he shit." said Turness.
One of the veterans who was on the helicopter that was hit, flight engineer Sean Reynolds, wrote: "Sorry Brian, I don't remember you being on my aircraft. However, I do remember you walking up about an hour after we had landed and asking for a stick of gum. Gum! I narrowly avoided death, you asshole."
Even Pierce Morgan, one of the most despised men to ever grace American TV, says there is "no way in hell" the anchor will ever return to his job, now that his credibility "has vanished into thin air, rather like mine."
So what will NBC's most discussed personality write about? "Well, I am not 100% sure, but I have some great stories involving a weekend in Vegas with the Rolling Stones, a sleepover at Sean Penn's, that unforgettable threesome with Beyoncé and Nicki Minaj, oh yeah, and the time I wrestled a tiger in Kenya. I nailed that bastard right between the eyes," said Williams.
Insincerely Yours is guaranteed to be a riveting, fictional read.

Latest posts by John Glynn
(see all)