Lion killing dentist Walter Palmer has more skeletons – literally – in his closet.
Walter Palmer, the American Rambo impersonator, who shot, killed and then took a selfie with famed Zimbabwean Cecil "the Friendly Lion," is now one of the most hated men in the world, and the latest breaking story involving the douchebag dentist, in the words of CNN anchor Don Lemon, "makes modern day Bill Cosby look like 1980's Bill Cosby — somewhat respectable."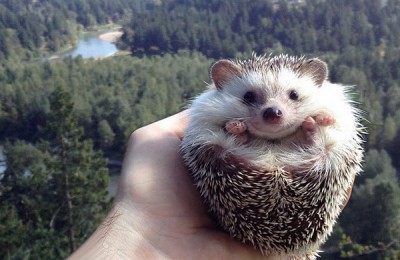 Cast your mind back to March of this year. This was the month that saw Biddy pass away, the globe-trotting hedgehog who captured American hearts. Toni DeWeese and Tom Unterseher, Biddy's owners, told the world that the four-year-old hedgehog succumbed to illness — however, the shocking truth has just emerged.
According to Toni and Tom's recent post, Biddy did smoke close to thirty cigarettes a day, but cancer was not the ultimate cause of death. The pair released a statement today, and it read: "We treated Biddy as if he was our child. We smoked the finest weed together, drank quality wine, watched Breaking Bad and Boardwalk Empire box sets, even brought the little guy to meet his favorite rapper — 50 Cent. We miss him, and it's time to come clean," they wrote.
The statement, which appears on the "BiddyCent" account, which has over 800,000 followers, goes on to reveal some sobering truths:
"This is a very difficult post to type. It breaks our hearts, and I know we typed these exact same words back in March, but this time we really mean it. On April 24th, 2015, Walter Palmer approached us and offered us $150,000 to dropkick our spiky little friend into the Colorado River. Shamefully, we regret to say, Biddy left our home with Mr. Palmer.
"We will never forget the final hours spent with Biddy, the endless lines of cocaine, the strippers, the overall chaos, it's what the little guy wanted, he never stopped smiling that night. We want to thank all of you for following Biddy and his adventures, and we know this news is hard to digest. Although we couldn't have asked for a better hedgehog, $150,000 is way better than a spiky, chain smoking rodent."
#biddythehedgehog #biddycent #swimstronglittlebuddy #filthyrich
Latest posts by John Glynn
(see all)