Slain Cecil the Lion's brother releases statement
Jericho, the brother of Cecil the Lion, has released a statement on his website, lionizing-lions.com, and it reads: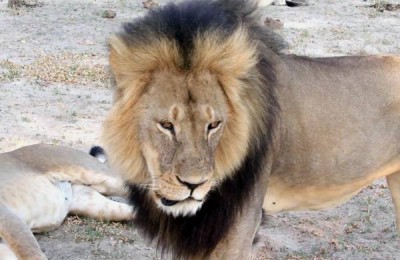 "It is I, Jericho, the Luigi to Cecil's Mario. As you can probably tell, contrary to reports, I am not dead, I was not killed in Hwange National Park. Please don't listen to the nonsense spouted by the Zimbabwean conservation, non-profit fools, those guys are full of shit. As I sit here typing this statement in some mud hut café, honestly, I feel empty, I am a broken lion. Yes, this coffee tastes like toilet water, it might even be toilet water, however, that is not why I feel great pain. The manner in which my brother was murdered hurts me deeply. Although we didn't always see eye to eye, and although he had sex with my wife, I loved Cecil. Our parents always told us how extraordinarily blessed they felt, although they only ever heaped praise onto one of us … and it wasn't me. Cecil the Lion was a grade A student, you see, he simply excelled at Math and Physics."
The heartfelt statement continues: "As I prepare to leave this café and return home to that god forsaken park, please, let me sincerely thank everyone for their sympathy and support, which has been a tremendous comfort to me and my cheating wife, Laura. Lions and humans are not so dissimilar, even if a five star meal for us consists mainly of giraffe and gazelle, but I digress. Particularly I wish to thank Larry Wilmore from The Nightly Show, he really dismantled that bastard, otherwise known as Walter Palmer. In addition to Larry, a hugely talented guy, I am forever grateful to Oprah. She has invited me to fly to the US and record an intimate interview for the Oprah Prime show. Steven Spielberg, I haven't forgotten you, your desire to pay homage to Cecil the Lion is humbling, although, I must ask, do you really think Chris Pratt is the perfect fit to play my brother? How about Daniel Day-Lewis, is he free? If not, maybe Matthew McConaughey, he was brilliant in True Detective."
Jericho went on to discuss how his brother was returning from a stag party when Palmer and his "heartless bastards of friends" tricked him into leaving the park, using a dead carcass as bait.
"Unfortunately this manipulation, through no fault of Cecil, resulted in his death. He, like myself, always had a weakness for meat."
Jericho, hotly tipped to appear as a guest judge on Zimbabwe's Got Talent, finished by saying: "There were many other people and agencies who helped us through this difficult time. If I omitted anyone, I apologize. Cecil the Lion was an intelligent, talented and a hard-working hunter. He was a big cat with a big heart. He had a bright future ahead of him. Mr. Palmer – if you're reading this – In the immortal words of Liam Neeson: 'I will look for you, I will find you, and I will kill you'."
Latest posts by John Glynn
(see all)