"Walter Palmer is my hero!" says Sabrina 'Catnip' Corgatelli, who likes a little exotic trophy hunting herself.
"Walter Palmer is my hero, that trophy hunting dentist is free to lube up and root my canal any day of the week," says Sabrina 'Catnip' Corgatelli, a big-game trophy collector from Idaho.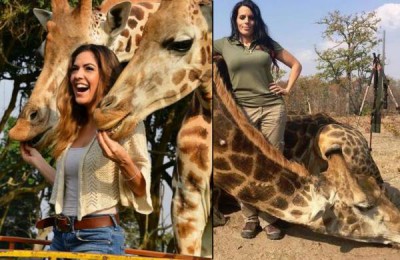 "Catnip" is just the latest "hobby hunter" to anger animal rights activists around the world. After returning from a three-day, South African-based trophy hunting trip, much to the disgust of so many animal lovers, Corgatelli posted images of herself standing alongside the carcasses of her various conquests, including a giraffe, an elephant, a rhinoceros, two tigers, a baboon, a gazelle, three hyenas, an impala, four warthogs, a wildebeest and a hamster.
Appearing on NBC's Today show to defend trophy hunting, a smug looking Corgatelli said, "Yes, I work as an accountant for Idaho State University, and the job is about as exciting as it sounds, so trophy hunting allows me to blow off a little steam. I apologize, the hamster was shot when I was heavily intoxicated, it was a wild night. All the rest (of the animals) we stalked for hours and hours."
The comments came only weeks after Walter Palmer, the infamous American dentist, killed Cecil, Zimbabwe's most famous lion.
Corgatelli continued: "Everyone seems to think I am a cold-hearted killer. Yes, I enjoy killing endangered, defenseless species, but I do have a muscular organ that pumps blood around the body."
"A heart?" asked a puzzled looking Savannah Guthrie.
"Yes, that's what you call it," replied Catnip, before adding, "there is a connection between humans and non-humans, a very intimate one — that I like to obliterate with gunfire. There is something beautiful about that, I think."
When asked why she killed the giraffe, Corgatelli replied: "Come on, didn't you watch Madagascar? Melman really annoyed me. Giraffes, with their preposterously long necks, are, like, super annoying."
Corgatelli did herself few favors by posting numerous trophy hunting photos on her Facebook page, with one showing the giraffe draped around her naked body. It included the caption: "Day 2: I got the bastard!!! I couldn't be happier. #murderingmadagascar"
The British celebrity Piers Morgan, who is outspoken on animal cruelty, joined the condemnation of Catnip with a string of tweets and described Corgatelli as "pathetic, a person desperate for publicity," before adding, "did you people like me in Entourage? I thought I was pretty damn good, but I'm biased, of course."
Latest posts by John Glynn
(see all)