God taps Jon Stewart to replace 'disappointing' original
He's been regarded by millions as a superhuman being, a deity, a comedic god — but after more than 16 years working as "The Daily Show" anchor, Jon Stewart has left the building.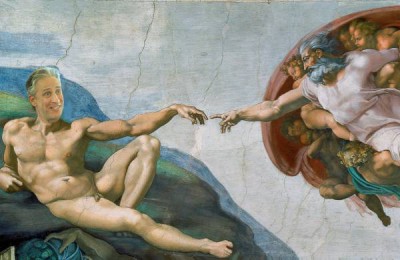 Stewart wasn't the most pious of hosts, and he didn't always speak highly of God – "I don't know what the f*ck that guy is smoking, but I don't want any," he once told Rolling Stone.
However, at the Immortal Mortals ceremony on Friday night, which saw Stewart inducted into The Comedy Hall of Fame, the man himself (a.k.a. God) displayed no feelings of animosity whatsoever. Delivering a deferential speech in praise of the presenter, God took to the podium and stole the show:
Jon Stewart, also known as Soupy, Lefty, Poochy and Ball Busting Bastard by all the people at Fox, is an artist in every sense of the word. Who better to give a speech on Jon than me, his creator? The diminutive demon was born on November 28, 1962, in New York City. His full name is Jonathan Stuart Leibowitz, and it's easy to see why he decided to distance himself from such a hideous surname. Jon told the world that the reason for his name change was a deeply personal matter, not a professional one. He attributed the name change to a strained relationship with his father, but don't be fooled, people, he was simply embarrassed by its "Jewishness," for lack of a better term.
After some heckles from the crowd, much to God's dismay, the divine one shouted, "Hey, I'm allowed make Jew jokes. Jesus, tough crowd."
The Almighty continued:
Anyway, back to Jon Stewart. At Lawrence High School in Lawrence Township, New Jersey, this modern day legend wasn't exactly a chick magnet. Yes, he was a band member, but he played the French horn, for God's sake, sorry, for my sake. His lack of musical prowess and lack of romantic encounters — zero, to be precise – hung over him like a dark, sexually frustrated cloud. He went on to attend the College of William and Mary in Virginia. While studying, Jon took on a slew of random, part-time jobs – dog groomer, puppeteer, horse whisperer, and clairvoyant, to name just four.

However, in 1986, in Jon's mind, anyway, his luck seemed to change when he was offered a stand-up gig. Thanks to his one man show, Blood, Sweat, and Drunken Jeers, it wasn't long before Jon found himself living the ultimate dream — appearing on basic cable.
After some forced, truly uncomfortable laughter, God continued:
He headlined MTV's first talk show, The Jon Stewart Show, and it remained on air just long enough to bomb faster than Robin Thicke's credibility. Jon then went back to MTV hosting yet another shit-show that, surprise, surprise, failed. He seemed to be the human representation of erectile dysfunction — a complete flop.
After turning his glass of Beverly Hills 9OH2O water into a glass of 1982 Chateau Mouton — a transformation met by a chorus of ooooohs and aaaahhhhs, God continued:
Oh, now I have your attention. And you thought the water into wine parable was horseshit. Similar to a fine wine, people, Jon simply gets better with age. Yes, his 20's were full of forgettable moments, but Jesus, my actual son, stayed in Nazareth up until he was 32, doing absolutely nothing remarkable, and some of you simpletons regard him as the greatest man to ever walk the world. To me, honestly, Jesus was — and still is — a disappointment. Any crazy claims that he spent his 20's backpacking around India or visiting friends in England are just that — crazy claims. Yes, he performed a few magic tricks, but nothing Penn & Teller can't do.
A perplexed looking audience watched on as God wrapped up:
Jesus was dead by the age of 33, having achieved very little, no qualifications, no wife, no children, twelve male friends … well, better make that eleven, can't forget Judas, the bastard.

By the age of 33, on the other hand, Jon Stewart was hosting a talk show for the BBC, he was hanging around with Dave Chappelle, Eddie Izzard, and Christopher Hitchens. In 1997, Jon was chosen as the host and interviewer for George Carlin's 10th HBO special, 40 years of Comedy.

Like my son, Jon was crucified early on in his career, albeit less gruesomely. But Stewart came back stronger, we saw a new and improved Jon, a sharper Jon, a more clinical Jon, and, most of all, a funnier Jon. He deserves more than his place in the Comedy Hall of Fame.

So now, I, God, your master, wish to state that, from this very moment, Jon Stewart is to be known as the official son of God. Jesus, if you're listening, pack your bags and cut your hair, time to find yourself new digs and an actual job.
Latest posts by John Glynn
(see all)