Smoke inhalation from wildfires can be a problem – except when it's pot, it seems.
California is in the midst of a biblical-like drought, and state leaders have had to find ingenious ways of preserving the little water they have left. On Wednesday, Los Angeles city officials launched their latest effort: Operation Cojones, the deployment of 25,000 "shade balls" into the sprawling city's reservoir.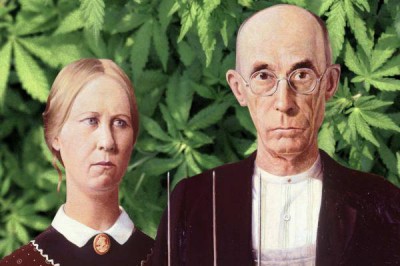 Eric Garcetti, the city mayor, said: "The release process is extremely scientific. The balls you see (pointing to the reservoir) have been dropped from the back of a large shipping truck. These balls reduce evaporation levels under the sweltering summer sun. Actually, when you think about it, the process is not very scientific at all. Silly me."
Furthermore, along with a lack of water, California-based marijuana farmers have found their crops engulfed by wildfires. Along with severely impacting the lives of the 99.9% of Californians reportedly struggling with glaucoma, the pot fires have been disseminating an all-too-familiar smell.
Bob Bluntman of the Emerald Growers Association, an association of cannabis growers in California, said on average, a burning marijuana farm "releases a similar amount of smoke into the air as fifteen back to back Coachella concerts."
A representative from Cal Fire cautioned residents to "do everything in their power not to breathe."
Chris Conifer, chief of California Department of Forestry and Fire Protection, said: "I ask everyone to stay away from high smoke areas – even those that smell like pot – although I realize asking any Californian to avoid weed is like asking a horny dog to refrain from humping a human leg."
Conifer said the wildfires will "have a serious impact on supplies across the state," before adding, "if the glaucoma statistics are anything to go by, and the medical marijuana drought is as severe as we think, a large majority of Californians will be blind before September."
The profitable Napa wine industry is also feeling the heat, quite literally. The wildfires have winemakers wondering how on earth they can market smoke-infused alcohol.
Gilbert Grape, the president of The Wine Institute, had this to say: "Herbal infused wines, yes, that's very marketable, but dirty, semi-pot, semi-shit infused wine, not so much."
The following two tabs change content below.
John Glynn
John Glynn is an Irishman, a lover of Guinness and a potato connoisseur. An expert in the area of mediocrity, he one day hopes to own a decent coffee maker and visit SeaWorld Orlando.
Latest posts by John Glynn (see all)