McDonalds is adding delivery service for those not able to make it off of their couches.
The United States ranks number one in many global categories such as exporting jobs, or producing the world's worst celebrities, but our bid at the top spot for fattest nation may now be in jeopardy. Hold onto your FUPAs folks, McDonalds will now be implementing a delivery service in the UK and certain parts of Europe.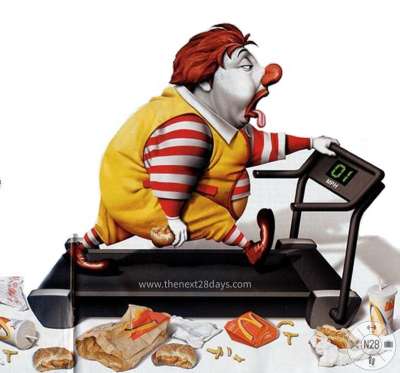 The demand for grease soaked trans fat has hit an all-time high across the pond and the consumer base is in danger of not being able to make it from off of their couches to the actual restaurants.
"Our European numbers are definitely down from last year by a substantial margin," said Michael Stokes, Vice President of Marketing for the food chain. "If people are either too fat to get to our stores or fit inside the booths, then we'll just have to bring the stores to them."
The delivery campaign is presumed to launch sometime in the early Spring of this year and has many local residents of the UK perspiring with excitement.
"I mean, I'm fat… but I could definitely be fatter," said Niall Covington of Liverpool. McDonalds tends to agree.
With bathing suit season just around the corner the fast food burger giant is determined to ensure that Europeans look their absolute worst when the clothes come off.
"It's not that we want our customers to look fat, it's just that skinny is bad for our image," said Stokes.
The folks at McDonalds are very excited to launch the new platform and are confident the decision will produce great results.
"When I see a fat person walking on the side of the road I smile a little and think, I helped make that,"  said Joel Blakeslee, a fry cook at the local McDonalds in Yorkshire, England. "Now they no longer have to even get up. Well, except maybe to pay I suppose."
It's this type of pride and enthusiasm in a job well done that has triggered the direct threat to the United States as champion of the clogged artery.
Tina MacGowan, of Lancaster, Pennsylvania, is appalled by the news that the torch of fattest nation may soon be passed.
"I used to get winded just getting up to take a dump. That don't happen no more," she said. "I don't exactly agree with the Feudal System but if I have to I'll start shopping at the Burger King."
McDonalds has announced that it does not have any plans to launch a nationwide delivery platform anytime soon in the U.S., however.
"There's just really no need for it, currently," said Michael Stokes. "Americans may be fat and lazy but they'll always use the drive thru."
Latest posts by Patrick Lawlor
(see all)