Chuck Schumer's desire to save a few bucks leads to filibuster of restaurant.
NEW YORK — A Denny's restaurant on the lower east side of Manhattan has found itself in the headlines recently, thanks to Senator Chuck Schumer (D-NY) and his desire to save a few bucks.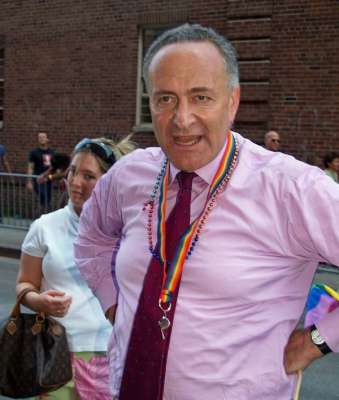 Upon the completion of his meal recently, the Senator attempted to pay with an expired coupon that was deemed invalid. He was then informed that only his senior citizen discount would apply, which did not sit well with the local politician. In a furious outburst Senator Schumer proceeded to boisterously declare a filibuster of glutinous proportions.
The Schuminator announced to the diner that he would continue to order obscene amounts of food and willfully discard his bounty into the trash at the taxpayer's expense until his coupon was honored.
"I've never seen anything like it," said Vinod Chapru, a local taxi driver that was in the middle of eating an omelette at the time of the incident. "There was so much food! And the waiter just kept bringing it out."
Senator Schumer commanded the floor of the restaurant for close to twelve hours before the manager on duty caved and applied the expired coupon to the original bill.
"He was up a little over fourteen grand by that point," said the Denny's shift manager, Howard Stulitz. "Plus two of our line chefs were about to pass out from dehydration, so I knocked off ten percent from his original fifteen dollar lunch tab."
The Senator paid with his AMEX card and demanded an itemized receipt before storming out of the diner and into his vehicle that was waiting outside.
Mr. Schumer was not available for comment in regards to the matter, but a spokesman from his office said that the Senator has been under a great deal of stress lately.
In response to the ordeal, Denny's corporate office has announced that they will embrace the lunacy of the incident and will be naming a high caloric menu item after the Senator that will be known as the "Fill-A-Gut-Buster."
Don Larson, Senior Vice President of Operations at Denny's corporate office, was enthused by all of the attention such a high profile meltdown brought.
"I think it's great," said Larson. "You can't buy that kind of publicity. Chuck is welcome at any of our stores, despite the fact that his behavior was neither Rooty, Tooty, nor Fresh 'N Fruity."

Latest posts by Patrick Lawlor
(see all)