Reports of VP Mike Pence leaving an NFL game over 'taking a knee' protest missed the point.
INDIANAPOLIS — Two things anger Vice President Pence more than taking knee during the national anthem: one is chewing with your mouth open, the second is Giant's Football.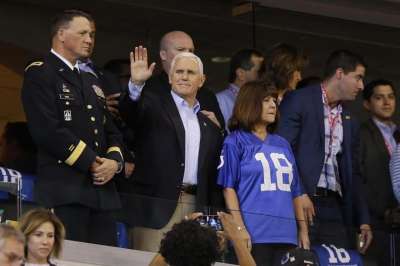 A case of geographical mistaken identity was to blame Sunday night when a furious Pence stormed out of the Lucas Oil Stadium in Indianapolis after seeing what he thought was the New York Giants taking the field.
"What the hell is this?" demanded an outraged Pence upon misinterpreting a Payton Manning jersey in the stands. "I thought we were Indianapolis! The Giants suck!"
Pence then gathered his things along with his composure and stormed out of the luxury box.
Kathy-Anne Sterling, an employee of Lucas Oil Stadium, was startled by the exit. "I honestly don't know what happened," she explained. "One minute he was lecturing on why abortion is a sin and the next he's screaming about how Ben McAdoo has the look of a pedophile."
The Vice President took to Twitter soon after his departure claiming that, "The POTUS and I will not dignify any team that disrespects talent, athleticism, or the ability to compete in this league."
When reached for questioning in regards to Pence's departure Giant's Senior Vice President and General Manager, Jerry Reese, said, "Yeah… I don't blame him." Reese then went on to say, "We're pretty terrible."
Pence later deleted his Twitter rant after a brief chastising from the President. Trump was quoted as referring to Twitter as, "my thing."
The Vice President, however, is still permitted the use of such social media outlets as Facebook, Instagram and Tinder, according to White House sources.
"Those are fine," said President Trump. "I'd even allow Trivia Crack if we weren't in the middle of a war on drugs."

Latest posts by Patrick Lawlor
(see all)