Ivanka Trump insists she and her father are authentic feminists
In an exclusive interview with this reporter today, Ivanka Trump Kushner confided that she was "hurt and confused" by her treatment at the W20 Summit on female empowerment in Berlin.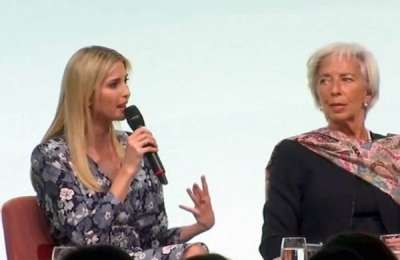 "I was shocked that the audience booed and hissed when I related that my father is a 'tremendous champion' of women's rights," she said.
To support her assertion, she pointed out that he is financially supporting two ex-wives along with his present wife and has dutifully raised three separate families. "It is only because of their relationship with daddy that they were able to become the independent, achieving women they now are. He has literally supported them all the way."
She then became very emotional and added, "And don't they realize all the women he has touched over the years?" She froze for a minute. "I mean women's lives, of course."
She was particularly offended by those who questioned her right to be on the same stage as Angela Merkel and Christine Lagarde, the director of the International Monetary Fund. "I am also a woman with political power and experience; after all, I've had an office in daddy's White House for more than 100 days!" she exclaimed.
She was incredulous that anyone would question her feminist credentials. "Just think of all the women in sewing factories in China that my companies are supporting," she insisted. "And I tried to talk to daddy about the day care issue, but he misunderstood and had more nannies flown in from Mexico to take care of my kids."
She was most resentful of the rejection she felt from the other world leaders, particularly Angela Merkel. "She was so ungrateful," reported Ivanka. "When I heard she was up for re-election, I offered to put her in touch with Putin and help her with a complete make-over to make her more appealing to the voters."
The following two tabs change content below.

Diane de Anda
Diane de Anda is a third generation Latina and retired UCLA professor. Tired of cranking out technical articles in a "publish or perish" atmosphere, she now spends most of her time writing adult fiction, children's books, parody, and satire. Her weapon of choice is the limerick, aimed with humor and a touch of malice at society's icons, celebrities, politicians, and other irritating folk.

Latest posts by Diane de Anda (see all)