There is no hope for the world, German leader Angela Merkel has decided, after spending time with the U.S. president.
BERLIN, Germany — After spending an entire day with Trump, Angela Merkel has announced she is ready to forget hundreds of years of history and millions of lives lost and join forces with Vladimir Putin if it means she "never has to see that orange asshole again."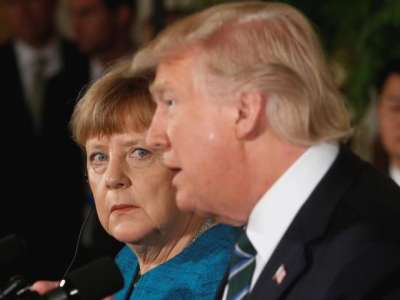 Trump, who has since called his relationship with Merkel "unbelievable, like the butter," got off to a rough start when Emmanuel Macron,  French President and delicious coconut pastry, gave him an unexpectedly sturdy handshake. Melania had to spend the night reassuring Donald of his masculinity, just like the one time Liddle Marco Rubio made a comment on Trump's small penis.
However, when he arrived in Berlin, Trump was in a better mood, and upon first seeing Merkel, recommended that she "talk to Ivanka about spicing up her looks," saying that if she "lost the hair" she could "easily become a 6 or 7."
Later, upon touring the Holocaust memorials, Trump admitted he "didn't understand why they even needed to fight World War II," claiming that if Andrew Jackson had been around, he "could have avoided it entirely." Merkel attempted to hide her contempt behind her well-known, warm, welcoming German smile, but it was to no avail.
Trump finished off the visit with a speech where he, once again, complained that he has been treated worse than any US president ever because of the terrible media covfefe. Trump explained that he was penning  a new biography about "his struggle," and that he would gift Merkel a German copy when he's done, which he would title "Mein Kampf." After being booed off-stage, Trump said that this reception was "the worst thing the Germans have ever done."
Following Trump's visit, Merkel promptly called Vladimir Putin to tell him she was "giving up on the Western world" and was "ready to do whatever he wanted as long as she never has to deal with that ignorant polar-bear hating turd again."
The following two tabs change content below.
Adam Barsouk
Adam Barsouk is an accelerated student of medicine and health policy at the Jefferson Medical College. He was a writer for the Penn State student newspaper and satirical newspaper, and also frequently contributes to the Pittsburgh Post Gazette, the Centre Daily Times, and the Jewish Chronicle. Adam speaks 6 languages, has visited over 30 countries, and loves sharing his knowledge, experiences and perspectives.
Latest posts by Adam Barsouk (see all)