Our intrepid radio talk show host Jerry Duncan interviews Nancy Pelosi.
ANNOUNCER
Live from under a rock in your backyard, it's The Jerry Duncan Show.
JERRY
Good morning listeners nationwide. Is it a good morning? We'll soon find out. Today on the show my guest is the Democratic Minority leader of the U.S. House of Representatives Congresswoman Nancy Pelosi.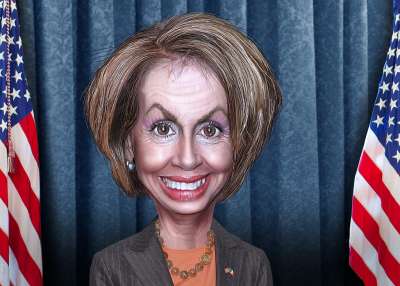 NANCY PELOSI
Hello Jerry.
JERRY
Man, you are tiny. Those hands and feet are the size of a Barbie Doll.
PELOSI
So is your brain.
JERRY
Hey, I do the insults around here.
PELOSI
Don't mess with my head. I know people who can make you disappear.
JERRY
When you were the House Majority Speaker, what was your relationship like with President George W. Bush?
PELOSI
We didn't agree on much. I fought to keep social security solvent. He wanted to gamble that money on stock and bond investments. Can you imagine? Wall Street and banks collapsed under this man in 2007 and it could have been worse.
JERRY
(dramatic) I remember when my 401K tanked. I remember when W was reading My Pet Goat to little kids as the Twin Towers came crashing down in New York City. I remember when the crypt keeper Dick Cheney shot his buddy in the face bird hunting. And I remember belching loud in a movie theatre during A Beautiful Mind for shits and giggles.
PELOSI
Are you finished?
JERRY
Go ahead.
PELOSI
And if that wasn't bad enough, President Bush started a war in Iraq that put our economy in the crapper.
JERRY
(singing to the tune of the West Side Story song Maria) Katrina, I just met a flood named Katrina.
PELOSI
That too. I saved America, Jerry. It was me and me alone. (she starts singing the Helen Reddy song I am Woman)
I am woman hear me roar, in numbers too big to ignore, And I know too much to go back and pretend.
JERRY
Knock it off Pelosi. Your voice sucks.
PELOSI
I'm warning you to watch your potty mouth.
JERRY
I understand some of your members want you to give up the speakership because you're a drag on the party. The Democrats haven't won much since 2008.
PELOSI
Democrats were hacked in 2016. Trump cheated. We didn't lose. Putin won.
JERRY
All right. Then how do you make a comeback?
PELOSI
We are currently reproducing clones of Elizabeth Warren in a secret laboratory. There will be hundreds of her running for office in 2018. These clones will literally kick butt if anyone gets in the way. They have sharp shoes that can cut through steel. I suggest you start wearing a nut cup.
JERRY
Okay. Let's say these Warren zombies invade the U.S. How will that help Americans?
PELOSI
We won't give tax cuts to the wealthy at the expense of the middle class and poor. We'll have money for infrastructure to build roads and bridges. There will be subsidies for health insurance so premiums can be lowered and provide more services.
JERRY
As Moe from The Three Stooges would say, "You're a pretty smart ignoramus."
PELOSI
Coming from you, I take that as a compliment.
JERRY
You're 77- years old and the size of Chris Christie's arm. You probably only had one or two facelifts.
PELOSI
Whoa. Did you say I had a facelift?
JERRY
(sheepish) Well, I assume.
PELOSI
(angry, pulling the tight skin on her neck) Do I have a turkey neck? No! Does my nose look chiseled like a Picasso? No! Do I dye my hair? (pause) Two out of three ain't bad.
JERRY
What do you do for fun?
PELOSI
I have no fun. I'm always working to outsmart my opponents. For instance, I invented a machine that reduces your mental age by 60 years. My first experiment is going to be on Trump. He will still look 71 -years old, but reduced to a playmate for Barron. I will then become the first female president. Pussy power!
JERRY
You have a bunch of kids.
PELOSI
Yes And grandkids. I'm so busy that I forgot their names. Oh well, it will come to me. Let's see, there's ini, mini, miny. I don't know. Next question.
JERRY
Who is your idol?
PELOSI
Mary Todd Lincoln. That brave soul overcame adversity when her husband was assassinated.
JERRY
Wait a second, she ended up in a mental institution.
PELOSI
Bad example.
JERRY
My final question is what advice would you give to young women struggling to make ends meet?
PELOSI
That's a no brainer. Marry a rich guy like I did. You can be a millionaire without playing the lottery. God bless America.
JERRY
Good-bye everyone. See you tomorrow.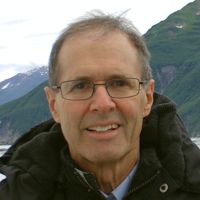 Latest posts by Dean Kaner
(see all)