Wherein our intrepid talk radio host interviews Kanye West and Donald Trump.
ANNOUNCER
Live from under a rock in your backyard, it's The Jerry Duncan Show.
JERRY
Good morning listeners nationwide. Is it a good morning? We'll soon find out. Today on the show my guest is President Donald Trump and Hip Hop artist Kanye West.
DONALD TRUMP
Too early, Duncan. I've been up all night tweeting nasty things about Hillary Clinton.
KANYE WEST
(rapping) Yo. It's like eight a.m. I rap when I wake up, want me to stop, can't say no, I'm the King of Hip Hop.
JERRY
I thought it was Eminem.
KANYE
What about M&M? I'm a Snickers man.
JERRY
You two Nobel Prize winners recently had a meeting in the Oval office to talk about prison reform.
KANYE
I wanna give a shout out to my homies on the south side of Chicago. You all know I love you. Alright, we'll talk later. Peace!
TRUMP
Isn't that where bad, bad Leroy Brown lives?
KANYE
Wow! You sure know your Black history. When I wear my Make America Great Again red cap, I feel like Superman. Donald Trump is da man.
TRUMP
As I told Kanye during our meeting. He could very well be a future presidential candidate.
KANYE
I'm in the 98th percentile of my IQ test.
JERRY
Not true. You got a 98 on your IQ test.
TRUMP
That's an A plus.
JERRY
Out of 162.
TRUMP
Bad. Very bad.
JERRY
Kanye. Why were men given larger brains than dogs?
KANYE
I don't know.
JERRY
So they wouldn't hump women's legs at cocktail parties.
TRUMP
Good. Very good.
KANYE
Go ahead, make fun. Just remember that I'm an entrepreneur. Have lots of cabbage.
TRUMP
Oh. Do you like rabbits?
KANYE
I like money, Chief.
KANYE
And I'm happily married to big booty Kim Kardashian.
(rapping) Big, big booty, what you got a big booty. Big, big booty, what you got a big booty.
TRUMP
(dancing) Yo, yo. Keepin it real. Big booty, big booty.
JERRY
Shut up, you idiots.
KANYE
I like the president, because he's a "bad ass mother".
TRUMP
I always thought I was a father, but that's okay. I like the words"bad ass mother". It sounds like me.
Kim Kardashian walks in the interview.
KANYE
Hi Ball and Chain. Have a seat on daddy's lap.
Kim sits on Kanye.
KANYE
Geez, you're crushing my knee caps!
KIM
I'm sorry, honeybun.
TRUMP
You can sit on my lap.
KANYE
What did you just say?
TRUMP
(lies) I asked her if she likes to rap.
KIM
I'll sit next to Mr. Duncan.
JERRY
So Kim. How's your father? We haven't seen much of him lately.
KIM
He's been dead for 15 years.
JERRY
What was I thinking?
KIM
Maybe my stepmother Bruce Jenner?
JERRY
He's a she. Right?
KIM
Yes. Her name is Caitlin. I call her Tranny. She calls me Bubble Butt.
TRUMP
Sounds like a fun loving dysfunctional family. And they're Republicans, folks! Really proud. Really proud.
KIM
Our ratings for Keeping Up with the Kardashians are off the charts.
TRUMP
It's better than Fox & Friends.That's how I learn about American families.
KIM
Well, as you may know in the last episode. I was traumatized.
TRUMP
Did one of your sisters date a white guy?
KIM
No. I broke a nail. Cried for days, because The Home Depot was out of krazy glue.
KANYE
(rapping) Gonna hold on to you like krazy glue, I'm gonna hold on to you like krazy glue. No matter what I do, I'm gonna sniff some glue.
Kim, Kanye and Trump start dancing.
JERRY
See you tomorrow everyone.
KIM
Get up here and dance, Duncan. You got two left feet?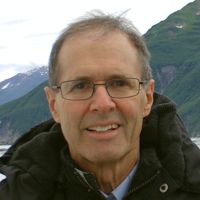 Latest posts by Dean Kaner
(see all)