Wherein our intrepid radio talk show host interviews White House Counselor Kellyanne Conway and her husband George Conway.
ANNOUNCER
Live from under a rock in your backyard, it's The Jerry Duncan Show.
JERRY
Good morning listeners nationwide. Is it a good morning? We'll soon find out. Today on the show my guest is White House Counselor Kellyanne Conway and her husband George.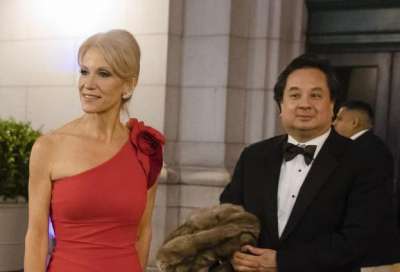 KELLYANNE CONWAY
See Jerry. I'm willing to go into any den to talk about our wonderful president.
GEORGE CONWAY
I tweeted and repeat "His stupidity knows no bounds."
KELLYANNE
Stop it. You're just jealous, because he didn't hire you for a prominent role in the Justice Department.
GEORGE
No. I decided not to join the Trump administration. "It's like a shit show in a dumpster fire."
JERRY
Hold on there. You introduced Kellyanne to Trump when you two were living in The Trump Tower.
GEORGE
I take the fifth.
KELLYANNE
Yeah. He cried like a baby at Trump's inauguration.
GEORGE
I did not.
KELLYANNE
George is lying. I saw him. He did, he did, he did.
GEORGE
Jerry. The difference between a knife and Kellyanne is that a knife has a point.
KELLYANNE
You're sleeping on the couch tonight. Make that a month.
JERRY
Hard to believe these two knuckleheads are lawyers. Kellyanne graduated from George Washington University Law School and George from Harvard Law School.
GEORGE
I'm the lawyer. Kellyanne is a liar.
KELLYANNE
How dare you, Pork Chops. I never lie.
GEORGE
When you worked on the 2016 Ted Cruz campaign, you said Trump was "vulgar" and "unpresidential."
KELLYANNE
That's not a lie. It's the truth.
GEORGE
Now you say he's the greatest president ever.
KELLYANNE
Let me get back to you on that one.
JERRY
Trump lied 7,000 times since he took office.
KELLYANNE
Make that 9,000 times. See, I do tell the truth. The problem is that my husband talks behind my back to his ex-lover Laura Ingraham.
JERRY
Laura Ingraham is what happens when you leave Ann Coulter in the microwave too long. The smartest person on Fox is Homer Simpson.
GEORGE
I love my wife. Fake news.
KELLYANNE
The only reason anybody knows George is because of me. Me, me, me. I did everything. Built our $7 million dollar Mediterranean home off Embassy Row and raised four kids while George was busy tweeting. It's amazing I found time for a face lift.
JERRY
Too bad the surgery didn't work.
KELLYANNE
For your information, I look prettier than when I was Miss Blueberry in 1982.
JERRY
Kellyanne. How do you keep a blonde busy?
KELLYANNE
I don't know.
JERRY
Write "flip" on both sides of a sheet of paper.
GEORGE
(laughs) That's funny.
JERRY
Hey, Shorty.
GEORGE
You talking to me?
JERRY
(sarcastic) No. I'm talking to LeBron James.
GEORGE
Just saying.
JERRY
Why do midgets always laugh when playing soccer?
GEORGE
No clue.
JERRY
The grass tickles their balls.
KELLYANNE
I don't get it.
JERRY
Kellyanne. Name one intelligent thing Trump has said since becoming president.
KELLYANNE
Just last week he said the only way to reduce nuclear weapons is to use them.
JERRY
I rest my case. See you tomorrow everyone.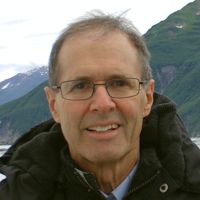 Latest posts by Dean Kaner
(see all)