Senate Republicans call Trump's newly proposed 2020 budget "a bit draconian" but "necessary."
The White House has unveiled its 2020 budget, which institutes a new plan designed to help cut rising Medicare, Medicaid, and Social Security costs by shooting elderly and infirm people dead in their tracks.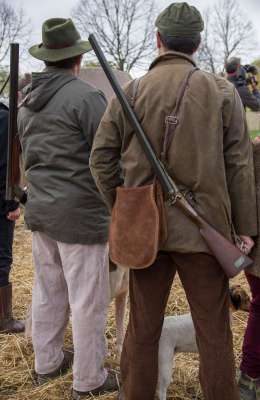 "We're very enthusiastic about this one," said presidential spokesperson Kellyanne Conway. "We'll be targeting old, poor, and sickly Democrats, along with occasional independents and the few remaining moderate Republicans. This creative new approach will help reduce the cost of entitlement programs and enable us to give bigger tax breaks to billionaires so they can take nicer vacations, preferably at Mar-a-Lago."
Senate Democrats expressed concern about the plan. "It does seem a bit extreme," said Senate Minority leader Chuck Schumer, "particularly to a man my age. But we will certainly avoid any direct confrontation with our friends from across the aisle. Rather, we plan to cave in after putting on a brief, disorganized show of opposition. We've found that usually works best for us."
The 2020 budget plan, which would involve distribution of free ammunition and beer to hunters throughout the nation, could be up and running within a few months. Also up and running would be the potential victims of the plan, although chances are they won't run very far.
Donald Trump, Jr. praised the new approach during a speech to the Russian American Chamber of Congress. "The sad truth is that many folks lack the opportunity to bravely hunt down defenseless animals like I do while on safari in Africa. This plan will encourage their patriotic urge to kill while also helping the nation to save money, which frankly is the only thing that's ever worth saving."
Vice President Mike Pence also praised the new approach during a speech to the American Enterprise Institute. "I think it's a good solution all the way around. Medicare, Medicaid, and Social Security expenses are rising through the roof. At the same time, many hunters are running out of game because of rampant logging and over-development. I know, because I strongly advocated opening once-pristine public lands to such development."
Added president of the National Rifle Association, Oliver North, "This will enrich the gun lobby and help the NRA recover the $35 million we invested while illegally coordinating with the Trump campaign. I would say more but it's possible I've said too much already."
The American Medical Association expressed reservations about the plan. "We admit that treating senior citizens can be complex," said an AMA spokesperson. "The real challenge lies in diagnosing, curing, and getting them out the office door in the ten minutes allowed by HMOs. Have you ever seen how slowly some of these people move? But we do find the Medicare plan somewhat disturbing. Why, it's almost as if this administration places no value on human life."
Countered Press Secretary Sarah Huckabee Sanders, "That's dead wrong. We have a culture of life, especially wealthy life. Is there any other kind worth living? That's why our tax plan was designed to help the very rich get even richer. Those elderly folks squeaking by on Social Security and Medicare are suffering because they lack wealth. Our goal is to put them out of their lingering economic misery while using the saved tax dollars for more crony capitalism. Hey, it's what we do."
Concluded Donald Trump, "It's a great plan that will help spread chaos, disruption, and violence throughout our great nation and distract everyone from the many ongoing investigations into my presidency, businesses, campaign, and life. Needless to say, I'm a big fan of this plan, as is my good friend Vladimir. So, once Vlad okays everything, we'll be moving forward."
Latest posts by Robert Friedman
(see all)