Wherein our intrepid talk radio show host interviews Republican Senator Mitch McConnell and Democratic Senator Chuck Schumer.
ANNOUNCER
Live from under a rock in your backyard, it's The Jerry Duncan Show.
JERRY
Good morning listeners nationwide. Is it a good morning? We'll soon find out. Today on the show my guest is Republican Senator Mitch "Turtle" McConnell and Democratic Senator Chuck Schumer.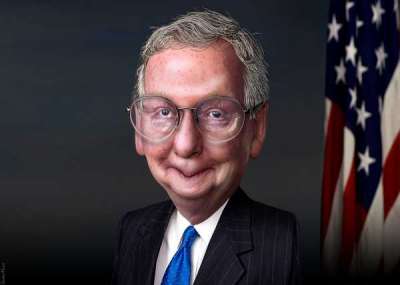 MITCH MCCONNELL
I'll regret doing this interview. I know it.
JERRY
You won't. I have some fresh flies and lettuce to snack on.
MCCONNELL
You're my kind of guy. Thank you.
CHUCK SCHUMER
Hey, Jerry. What do you get if you cross a turtle with a giraffe?
JERRY
FBI director James Comey?
SCHUMER
A turtleneck.
MCCONNELL
I find that insulting to my fellow reptiles. You need to apologize.
SCHUMER
I won't apologize until your approval rating in Kentucky is above 18.
MCCONNELL
You're mixing that number up with your IQ.
SCHUMER
I got a perfect score on my SAT test. Na na na na nah.
MCCONNELL
Well, I got a gazillion dollars from my Chinese father-in-law. There's an old Chinese saying "Foolish man give wife grand piano. Wise man give wife upright organ."
JERRY
Senator Schumer. Name one thing that's been accomplished since Trump became president.
SCHUMER
I can't. Oh yeah. He gave a tax cut to the rich and obstructed justice in the Mueller investigation of Russian interference in the 2016 presidential election.
MCCONNELL
It's time to move on from Russia.
SCHUMER
Just move on. Right. You had no problem impeaching President Clinton 20 years ago.
MCCONNELL
I was upset and withdrew inside my shell for months. Monica Lewinsky said I was so disgusting that she didn't know if something bad happened or I was just naturally ugly.
JERRY
Turtle. What do Monica and OJ Simpson have in common?
MCCONNELL
I don't know.
JERRY
Sore knees.
MCCONNELL
God bless America. Everybody in this great country got a pay raise this year.
SCHUMER
$10 a month.
MCCONNELL
We are safer than ever before.
SCHUMER
The Russians hacked our elections in 2016 and plan to do it again in 2020.
MCCONNELL
Coal is back and there is a demand for Pat Boone records.
SCHUMER
The Chinese have a growing solar panel industry that dominates 40% of the world's energy needs. Pat Boone? He's so old that the candles cost more than his birthday cake.
MCCONNELL
Trump cares about families.
SCHUMER
And separates them at our southern border.
The door slams shut. Mayor Rudy Giuliani appears.
JERRY
What are you doing here, Daffy Duck?
GIULIANI
I'm defending the Commander in Chief.
SCHUMER
Vladimir Putin?
GIULIANI
Very funny. The Lord created you in order to make a used car salesman look good.
JERRY
Rudster. Weren't you going to Kiev to get dirt on Vice President Joe Biden?
GIULIANI
I found out none of the restaurants serve Chicken Kiev, so I called off the trip.
SCHUMER
The reason Rudy backed down is because it is against the law to take gifts from a foreign government.
GIULIANI
C'mon. The new president of the Ukraine Volodymyr Zelensky is a comedian. I was going there to get jokes for the 2020 Trump campaign. Jokes are not a gift.
SCHUMER
You're wrong. Trump is a joke that never stops giving.
JERRY
One last question, Rudster.
GIULIANI
Go ahead.
JERRY
Were your parents siblings?
GIULIANI
(bonkers with eyes protruding) Do you ever wonder what life would be like if you had enough oxygen at birth?
JERRY
Sometimes the first step for forgiveness is realizing the other person was born an idiot. See you tomorrow everyone.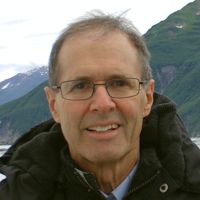 Latest posts by Dean Kaner
(see all)