Wherein our intrepid talk radio show host interviews Mick Mulvaney, Acting Chief of Staff for Trump.
ANNOUNCER
Live from under a rock in your backyard, it's The Jerry Duncan Show.
JERRY
Good morning listeners nationwide. Is it a good morning? We'll soon find out. My guest today is Mick Mulvaney,  Director of Office of Management and Budget for the Trump White House.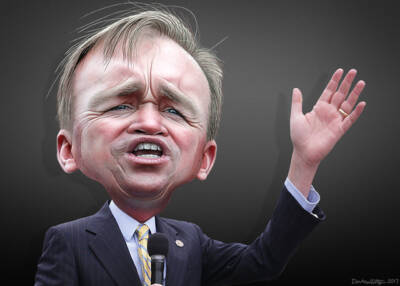 MICK MULVANEY
And Acting Chief of Staff.
JERRY
Nobody cares, you idiot. You're going to get fired by the Trumpster any day.
MULVANEY
It's okay. General Mills called and they want me to be the new leprechaun on the Lucky Charms cereal box.
JERRY
Okay. You're Irish. What's an Irish seven course meal?
MULVANEY
I don't know.
JERRY
A six pack and a potato.
MULVANEY
Talk about my record, smart aleck.
JERRY
It ain't pretty. You claim to be a conservative. Yet, you expanded the deficit like a drunken sailor with tax cuts and increased spending in an unusually high period of economic expansion.
MULVANEY
Nobody cares about deficits including my beloved leader Donald Trump.
JERRY
The same guy you said was a terrible human being before he was nominated for president in 2016.
MULVANEY
I plead the fifth.
JERRY
No. You drank a fifth. On October 17, you said in a press conference that military aid to the Ukraine was in fact tied to the Trumpster's demand for an investigation into the 2016 election.
MULVANEY
And  I corrected myself later that day.
JERRY
Some people are beautifully wrapped in boxes of shit.
MULVANEY
Are you talking to me?
Th studio door bursts open.
PRESIDENT DONALD TRUMP
I'm talking to you, Fumblin Dublin. You're fired!
MULVANEY
On what grounds?
TRUMP
For being born stupid. I'm getting impeached because of you.
JERRY
Yes. The Mick is responsible. But so is Bill Taylor, top U.S. diplomat in in Ukraine; Alexander Vindman, top Ukraine expert on National Security who listened in on your call with Ukrainian President Zelensky; Gordon Sondland, the Ambassador to the European Union; and an endless list of people who witnessed your demand for dirt on Joe Biden and his son Hunter.
TRUMP
I don't know these men. Are they on The Bachelor?
JERRY
Well, here's the big surprise. Ladies and gentlemen, Giuliani associate Lev Parnas.
LEV PARNAS
I testify against Trump. He throw me under bus.
JERRY
It was an extortion shakedown scheme, Parnas. Do you understand the gravity?
PARNAS
Yes. Shake down good with burger and fries. No gravy.
TRUMP
If this is the best witness the Dems got, I win.
PARNAS
You order Melania from me. I ship for free.
TRUMP
Now I remember. I asked for Nicole Kidman.
PARNAS
Was out of red heads. I send brunette.
TRUMP
Your mail order business sucked.
PARNAS
I know. Go down tubes like Trump casino.
PARNAS
Trumpster. What do brunettes miss most about great party?
TRUMP
I don't know.
PARNAS
The invitation.
TRUMP
Deport this man. He's stealing jokes.
MULVANEY
Can I keep my job, Your Highness?
TRUMP
Next time I want shrimp for dinner, I'll call you.
JERRY
See you tomorrow everyone.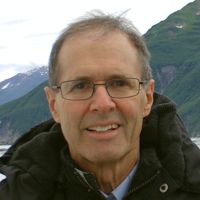 Latest posts by Dean Kaner
(see all)