Conservatives quick to call Roberts a nut case
In an unprecedented turn of events, Chief Justice John Roberts has been admitted to the psychiatric ward of George Washington University Hospital, suffering from multi-personality disorder. The news has some legal experts speculating that Mr. Roberts' surprising decision to uphold President Obama's health care law is related to the diagnosis.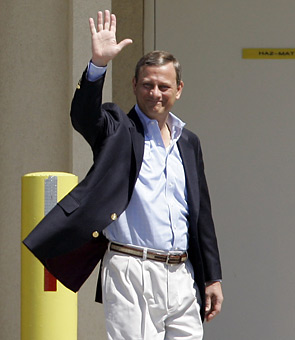 "For his whole career the guy is a fire breathing strict-constructionist and suddenly he becomes Al Sharpton in a robe," said Jay Sekulow, of the conservative American Center for Law and Justice. "What else can explain his switch?"
Medical records leaked from George Washington show that the chief justice goes through periods where he identifies himself as Juan Rosario, a Latin American communist revolutionary. He reportedly wears a "Che" t-shirt underneath his judicial robe.
A member of the Supreme Court staff, who wished to remain anonymous, told reporters that the other justices became suspicious of Mr. Roberts' mental state when he issued his health care decision in Spanish. After Justice Sonia Sotomayor translated it into English, Justice Antonin Scalia signed Mr. Robert's commitment papers.
The chief justice may have been suffering from his disorder for several years. In an interview on MSNBC's Morning Joe, Mr. Roberts' college girlfriend, Carley Marks, recalled her former classmate's erratic behavior.
"He'd be smoking weed with me, talking about how great the Cuban health care system was, and then he'd suddenly go all Young Republican and threaten to call 911 for a drug bust," Ms. Marks said.
The news of the chief justice's mental health status has caused a stir on Capitol Hill, with Senate Majority Leader Mike McConnell calling for Mr. Roberts' to be impeached. "I voted to confirm John Roberts to the Supreme Court…not Juan-what's-his-name," the senator told reporters.
But at a press conference Representative Charles Gonzalez, Chairman of the House Hispanic Caucus, praised Mr. Roberts/Rosario. "It's great to have our second Hispanic justice," Mr. Gonzalez said. "But I'd like to know whether he is Dominican, Puerto Rican or Colombian." In an e-mail message, Dr. Mehmet Oz said that Chief Justice Rosario's diagnosis makes it likely that he is all three nationalities.
Speaking to FOX News' Sean Hannity, Representative Michele Bachman also weighed in. "It's obvious that Justice Roberts was brainwashed by the Obama administration," she said. "I will call on Congress to investigate how socialists have managed to infiltrate and take over our Supreme Court."
According to political strategist Dick Morris, the Roberts/Rosario controversy presents presumed Republican presidential nominee Mitt Romney with a quandary. "Romney can't praise the chief justice because it would upset his base. And he can't criticize him because he risks offending Hispanic voters," Mr. Morris said.
After the news about chief justice Roberts/Rosario became public, Mr. Romney cancelled a press conference. A message on his campaign website said that the candidate was suffering from laryngitis.
At his daily briefing, White House press secretary Jay Carney refused to address the chief justice's mental health problems, but he did comment on Mr. Romney's reaction to the situation. "I think Governor Romney is wise to stay away from the topic of split-personalities."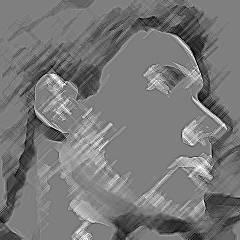 Latest posts by Alexander Vosh
(see all)