"We'll see if Jay Leno is ready to take it to the next level," says booker
Thursday, February 6 2014 was Jay Leno's last time hosting NBC's "Tonight Show." Leno choked back tears as he said goodbye and thanked his long-time crew in making the Tonight Show a ratings success.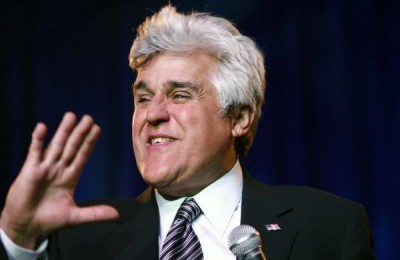 Leno said that he plans on hitting the road and getting back into stand-up comedy. However, before he hits the comedy clubs and theaters, Jay Leno is now going over and working on his five minute set and hopes to get booked on a local comedy open mic.
"Jay is one of us now," said Thomas Max, booker of the Red Canary Comedy Open-Mic in Wayne, WV. "It doesn't matter what he has done in the past, everyone has to start at the bottom."
Max later added, "Jay is more than welcome to try out his stuff at our open-mic and we'll see if he's ready to take his comedy to the next level, whether it be on the stage where some of us do community theater or at another open mic, we'll see if he has the goods."
The Humor Times asked Jay Leno if he's nervous about his first 5 minute set.
Mr. Leno said, "It's definitely a different ballgame. I won't have the Tonight Show band to look at for approval if one of my jokes fails. Just the stone-cold faces of the seven or eight people in the audience of a comedy open-mic. If I make even one of them crack a smile, then I'll know I have killed that night."
Thomas Max said that comedians who perform at open-mics might be reluctant to give up their spots to outsider Jay Leno.
"Most of my comics who perform at my open-mics have been doing this for at least three months and may turn their noses up at Leno or shun him altogether," he said. "But that's the nature of the beast in this business, and I hope Jay Leno is prepared for the possible backlash."
However, Jay Leno said he's confident that his five minutes worth of material is up to par.
"It's going to be difficult proving myself against open-mic veterans who have been doing this for months, but hopefully I can impress them enough or at least get into their clique where they at least laugh at everything I say on stage."