Robin Thicke latest celebrity taken in by undeniable Kim Jong Un charm
On Friday evening, North Korean leader Kim Jong Un was heard asking a party member, "Why are people so cruel to Robin Thicke?"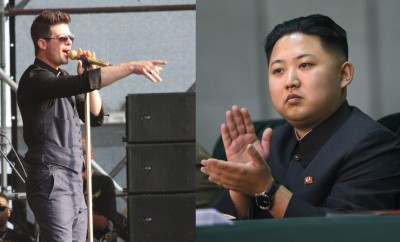 The soulful Jersey Shore fan reportedly loves Blurred Lines so much he demands it to be played repeatedly on North Korea's sole radio station, Glorious FM.
"I tried listening to Miley for a while but it's just not the same," the Great Leader told a rather lost looking associate.
When questioned, Pyongyang Phunk, Jong Un's marketing agency simply replied, "How the chosen one decides to unwind after benching 500kg is his own business."
However, we can exclusively reveal that both Thicke and Kim Jong Un have been corresponding via Twitter and other social media networks. Apparently, a joint feeling of isolation and ridicule from broader society brought the two men closer together.
"It was Mr. Thicke who initiated the contact. Our Dear Leader welcomed this and was particularly impressed by Robin's creative hash tagging abilities," claims a source close to the regime.
Of all the Tweets, perhaps the most worrying was Thicke's last response to Kim @killerhairstyle: "LOL, Kim, you're so bad, I'll definitely ask Pharrell if he can set you up with some studio time."
Latest posts by John Glynn
(see all)