"Let's have a conversation, even though it's only me talking" – Joni Ernst
Tuesday night saw Sen. Joni Ernst respond to President Obama's State of the Union address. Gaining widespread respect for her honesty, the freshman Republican famously admitted to growing up "f*cking hogs on an Iowa farm"  — a thankless and often perilous task. Obviously nervous, here's what Ernst had to say: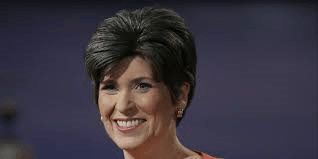 "Good evening, America. I'm Joni Ernst. As a mother, a World of Warcraft veteran, and a newly elected senator from the great State of Iowa, I am proud to speak with you tonight. A few moments ago, we heard the President lay out his vision for the year to come. Even if we may not always agree, it's important to point out that the President's views stink, and that is really saying something coming from an Iowa native."
Pausing to pick her nose, Ernst continued, "Tonight, though, rather than focus on trivial topics like climate change, I'd like to talk about real issues. Let's have a conversation about the new Republican Congress, the one you were dumb enough to elect, and how we plan to make Washington focus on making America great again, almost as powerful as China.
"The new Republican Congress understands all too well how difficult these past six years have been. Things couldn't have been much worse, and I am from a state where wearing camouflage to social events, including weddings, is actively encouraged."
Passionate and determined, Joni Ernst plunged ahead: "Red Oak — the little town in southwestern Iowa where I grew up, and am still proud to call home today, is still suffering from President Obama's poor decisions. You are probably asking, 'What can a person from a place where the city council meets at the coffee shop do for me?' Well, let me tell you. I am humble and hard-working. My parents may not have had much, but they worked hard for what they did have. Mom worked her butt off at the local Dairy Queen, although it was closed from November to March."
"I see decent people agonize over stagnant wages and lost jobs, I see the hurt caused by cancelled healthcare plans and mounting, unpaid bills," an emotional Ernst continued. "That's why the new Republican majority you elected are working hard to implement the kind of serious job-creation ideas you people need. Additionally, tonight, in the Armed Services Committee room, I'll join committee colleagues — Republicans and Democrats alike — to discuss ways of combating terrorism and the threats posed by Al Qaeda, ISIL and Bill Cosby. Seriously, that guy was on a roll"
With clenched fists, Sen. Joni Ernst concluded: "We know threats like these take time to obliterate. We've been reminded of terrorism's global impact, most recently with the attack on  the offices of Charlie Chaplin, the French satirical weekly magazine. My deepest sympathies go out to all the innocent victims of terrorism and their loved ones. May God bless each and every one of you, even the nihilistic atheists watching this."
Latest posts by John Glynn
(see all)