Getting high via drones at the Betty Ford Center
Police in Southern California say a drone overloaded with illicit methamphetamine crashed into the gardens of the Betty Ford Center.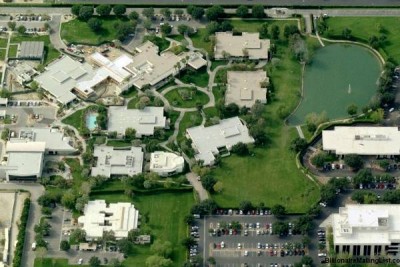 Sixteen packets of the drug, weighing more than eighteen pounds, were taped to the six-propeller remote-controlled aircraft. Police spokesman Phil D Basket said authorities were investigating where the flight originated and who was controlling it.
"Some of the people receiving treatment ran out into the lawn and started devouring the drugs like wild animals. We will find the ingenious bastards responsible for this atrocity, of that I assure you. This is not the first time drones have been used to smuggle drugs into rehab clinics. Other innovative efforts have included catapults, ultralight aircraft, tunnels and carrier pigeons," stated Basket.
Rancho Mirage's non-profit, dependency recovery facility offers inpatient, outpatient, and residential day treatment for alcohol, drug and peanut butter based addictions. The Betty Ford Center is the current home of Hollywood bad boy Jared Fogel, also known as the Subway Guy, and Caroll Edwin Spinney, the man most famous for playing Big Bird and Oscar the Grouch on Sesame Street. The Rancho Mirage clinic, like other rehabilitation centers, has almost become a rite of passage for today's stars.
Here are four of the Betty Ford Center's most famous guests, and their addictions:
Robert Downey, Jr. – Addicted to various substances since the innocent age of 2, the actor first developed a dependency on apple juice, before battling slightly more serious addictions to cocaine, heroin and American Idol.
Drew Barrymore – this former somebody entered for the first time at age 13 for drug and alcohol abuse and then returned back at a year later after an attempted suicide. Largely because of her inability to say no to an Adam Sandler movie, ironically enough, Barrymore has committed career suicide on numerous occasions.
Stevie Nicks – the Fleetwood Mac singer checked herself into the clinic on a 'Monday Morning,' and whenever questioned about her stay, Nicks simply says that she's 'Never Going Back Again.'
Billy Joel – the piano man himself entered the facility in 2005 for an addiction to Oreo cookies. He was kicked out for starting a fire, although he melodically denied any part.
Latest posts by John Glynn
(see all)