Sarah Palin delivered a speech that made the Kardashian family sound eloquent.
Sarah Palin, the former Republican vice presidential candidate and winner of Alaska's Moose Calling Contest 2015, recently declared her interest in running for president. Yesterday, however, by opening her mouth and actually talking, Palin displayed her real intelligence, or sheer lack of it.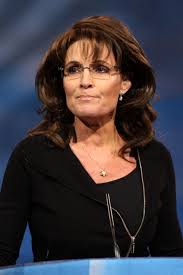 Speaking at the Iowa Cow Milking Marathon in Des Moines, an early staging ground for potential Republican presidential candidates, Palin delivered a speech that made the Kardashian family sound eloquent. Even for a woman famed for wrestling a goat in the talent portion of a Miss Alaska pageant, this address was beyond bizarre.
"When will Osama Obama let us control our own care? For the past four years, at the very least, this man has been dragging us down.
"The best four years of my life came in third grade, but that's a different story. Things must change for America.
"Some say it's too big to fail, but I say we must stay together, fight as one, like the French people did when those terrorists stormed the offices of Charlie Sheen, or whatever that magazine is called. We are stuck in a swamp of Scheiße, as the Germans say.
"Sometimes, if I look hard enough out my window, I can see those hardworking Germans making their economy stronger," screamed Palin.
Unsurprisingly, the press described Sarah Palin's speech as "confusing," "mind-numbingly tedious" and "incoherent," while Ted Nugent described it as "poignant and poetic."
The best response, undoubtedly, came from Democratic National Committee Communications Director Mo Ping, who issued a statement containing just two words: "Hashtag cringe!"
Regarded as a prime showcase for potential Republican candidates, this farcical rant from Palin even managed to turn Chris Christie away from his dessert. "I don't have the stomach for it now," muttered the big man.
While the very idea of a Sarah Palin 2016 campaign makes the Fox News faithful salivate like Pavlov's dogs, the rest of the world sees Palin as a caricature, an unintended but highly entertaining joke.
Latest posts by John Glynn
(see all)