"I think this proves once and for all that I saw combat." – Bill O'Reilly
The controversy continues over whether or not the O'Reilly Factor host, Bill O'Reilly, actually saw real live combat while covering stories in El Salvador and the Falkland Islands, even over O'Reilly's objections. And the stronger he protests, the more people are coming out in support of the reporters who first brought this news story to light.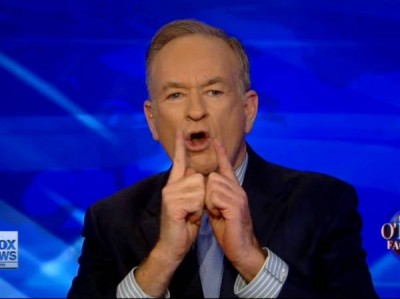 Days after a report by journalists, David Corn and Daniel Schulman of Mother Jones, a progressive newspaper, reported that in fact O'Reilly misrepresented the fact that he saw combat in the aforementioned "active" war zones, Bill O'Reilly and Fox News are standing behind O'Reilly's account 100%.
So, today, O'Reilly got out his trusty revolver and shot himself in his foot, requiring a trip to the local hospital. (Accounts of whether or not he actually shot himself or was shot by one of the Fox News station's mail clerks is still being investigated.)
"Was I scared? Hell no, I wasn't scared," said a recovering O'Reilly.
"I think this proves once and for all that I saw combat not only in the Falklands but also in El Salvador, and now, in New York City.
"And I'll tell you another thing," he said, his bravado pumped up by the pain killers he was prescribed at the ER.
"When Bill O'Reilly says he's done something, then by God, I'll do everything in my power to make sure his story is backed up by facts, even if I have to make some of those facts up, which I didn't, but if I did, then I would."
Mr. O'Reilly was then given another dose of pain medication and drifted back into the dreamland Fox News created for just this scenario.
In a related news story, David Corn has promised that from now on, he'll stick to reporting genuine news stories, instead of taking down liars.
Corn commented, "It just isn't worth my time when you show someone evidence and they still don't remember the facts. I'm not so much worried about how he presented the truth, I'm more concerned about his loss of memory. I hope he gets the help he needs."
Latest posts by P. Beckert
(see all)