Embarrassed, Ireland must now seek a replacement for the beloved patron Saint Patrick.
The Archbishop of Dublin, Diarmuid Martin, has said that, following what he called "an unimaginable shock to the system," Ireland has decided to find a replacement for the beloved patron saint.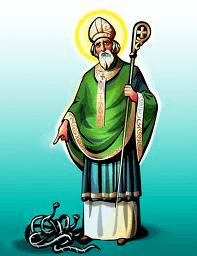 Credited with converting Ireland to Christianity in the AD 400s, many memorable legends surround his life. However, new research has suggested that Patrick wasn't as saintly as we once believed.
Although St Patrick was not actually Irish, and his exact birthplace and date is of much debate, it is widely believed that he was born around 375 AD in either Scotland or Wales. According to a leading Irish historian, rather surprisingly, Patrick's real name was Eli Elemlech, a Jewish Israeli.
"He only adopted the name Patrick to stop the Irish from laughing and probing him with questions, you know the way we are when a stranger comes to town," said Marty Murray, the man at the center of these riveting findings.
After submitting his CV for various positions in Israel, 'Patrick' fled and accepted a job tending sheep on Slemish mountain, County Antrim. During his time in Ireland, after becoming more disillusioned with circumcision and other Jewish customs, 'Patrick' immersed himself in the Irish language and the wonders of the Irish diet – potatoes and whiskey.
"Not long after this conversion, God visited Patrick in a dream and told him that his talents were being wasted herding sheep. He urged him to go to France and study fashion," stated Murray. After this epiphany and much deliberation, Patrick headed to France where he would pursue this new, exciting career. Following a promising start in his first year of school in Paris, much to his dismay, Patrick was expelled for indecent exposure after a class party got a little too heated. That night, after crying himself to sleep, God visited once more, this time urging Patrick to join the priesthood, maybe even become a bishop. At least, in the words of God, here, the word indecent didn't exist.
"Patrick graduated priest school with flying colors. After completing his Doctorate in Bishop Studies, God returned to him once more in a dream. The people of Ireland were calling out to him to come back for a pint," revealed Murray.
In the dream, according to the historian, like something out of Mission Impossible, God stated, "Good morning, Mr. Patrick. Your mission, should you choose to accept it, involves teaching Christianity to the Irish."
Craving potatoes and whiskey, Patrick grabbed his passport and traveled to Ireland. Preaching the Gospel and converting many, he and his disciples gave seminars and life coaching classes. After receiving a grant from the Irish government, Patrick began building churches all over the country.
Sounds perfectly noble, right?
But what happened to the people unwilling to convert?
"Patrick and his disciples gave them a severe beating. People think he rid our nation of snakes. That is simply not true. In fact, Patrick and his crew carried a huge anaconda around with them, and anybody that refused to accept Christianity was simply fed to Albert," whispered Murray, a tear in his eye. "Patrick preached and converted all over Ireland for 40 years, so he and his disciples had plenty of time to intimidate the more rebellious souls."
Although there is much debate over when and where he died, Murray believes, somewhere in Amsterdam, the unsaintly saint died on 17 March, 460.
"In his latter years, like Jim Morrison, the booze and love for the ladies got the better of him. 'Patrick' died during a narcotic fueled orgy in some Dutch brothel. Served him right, the man was a disgrace" roared Murray.
Who is tipped to replace 'Patrick' as the new patron saint?
According to Bet365, Conor McGregor, the mixed martial artist who competes in the UFC, is the favorite to take the throne.
When asked to comment, McGregor simply responded, "Get that camera out of my face before I shove it up your arse."
Latest posts by John Glynn
(see all)