Hillary Clinton can't escape comparisons to Bill
We all remember the oral — apologies — moral outcry when Bill failed to keep "Colonel Clinton" in his cage, and now, unless you have been living on a deserted island for the past few weeks, you are all too aware that Hillary Clinton used a private email account during her time as Secretary of State.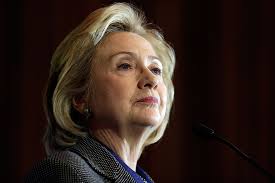 In addition to sharing countless YouTube videos of cats playing Jenga, at the request of the State Department, she also submitted close to 56,000 pages of emails from that account for proper archiving, also at the request of the State Department.
In a rather perplexing twist, though, Ms. Clinton has backtracked on her initial request and has asked the State Department not to release her emails to the public.
Now, as the Spamgate scandal starts to subside, we're beginning to get a clearer picture of what exactly Hillary is trying to hide.
Although the State Department has not released an exact time line on the process, officials say some of the more controversial emails will be released soon, and the content is described as "staggering."
This scintillating subset contains about 300 emails — totaling 1200 pages — all of which are offensive and not for the fainthearted. In one email, according to an insider, Hillary describes Fox News viewers as "human piles of feces," while another email sees America's most prominent female politician reminisce about the 1970s, a decade where not as many "fatsoes", "ragheads" and "Chinky-poos" existed in America.
After those emails have been made public, the department will complete the full review and ultimately release the remaining cache, most of which involve links to bumfights and Footfetish.com.
A leading figure at The State Department reportedly stated the following; "Racist, sexist or offensive language is not acceptable in the U.S.A, well, not from a woman. Perhaps, in another world, if the shoe was on Bill's foot, we could turn a blind eye."
The review is expected to follow the process laid out by the Anti Spammer Society– commonly referred to as ASS — which includes several categories of information exempted from public release. Staff at the State Department will have to work long hours sorting through the 55,000 pages and exclude any emails deemed too crude for public consumption, one of which supposedly includes a link to a Piers Morgan sextape.
"Nobody should ever have to watch that shit," said the leading State Department figure.
Latest posts by John Glynn
(see all)