A recently uncovered letter by Rory McIlroy to Tiger Woods discredits the myth that golfers never talk smack.
In the words of Confucius, he who drives well in "fairway" does not always "fare" well in driveway.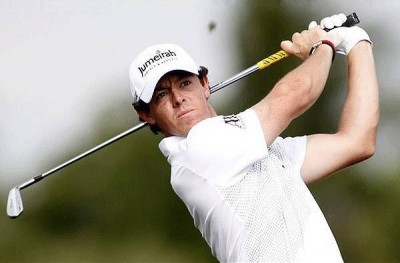 Little did the Chinese teacher, editor, politician, and philosopher know, but these poignant words would go on to encapsulate the career of Tiger Woods.
Unlike the golfer who appeared in the aptly named sex tape Morning Wood, Rory McIlroy is not accustomed to bondage and marital beatdowns. However, the pair do share some similarities — like Tiger, the Irishman's first word was "bogey," and, furthermore, he was a child prodigy destined for fame.
In a newly published New York Times Magazine profile by Chris P. Bacon, there's a heart-warming anecdote about how McIlroy knew what he wanted from an early age. Rory's uncle told Bacon that when the golfer was nine years old he wrote Tiger a threatening letter.
The recently uncovered letter discredits the myth that golfers never talk smack. At the time of writing, Woods was the number one ranked player in the world, but McIlroy warned the Californian that "his life would eventually crumble."
Reportedly, when McIlroy penned the letter he had just won the 1998 Durex Junior Golf Classic in Florida for the 10-11 age group. Durex Cup in hand, feeling strong, erect and potent, Rory picked up his crayon and started writing.
The Irishman, in a rather threatening manner, told Tiger to watch out for a woman "with a golf swing like Happy Gilmore," advice the American failed to acknowledge. Nearly two decades on, psychic or not, McIlroy has firmly dethroned Tiger.
Woods, the Mel Gibson of golf, is washed up and finds himself ranked 104th in the world – a demise McIlroy actually fated in the letter. Just before signing off, Rory wrote, "One day, not long after your sexual promiscuity is exposed, you will vanish into the realms of anonymity. Once a roaring tiger, you will end up purring like a kitten."
Remarkable writing for a nine year old.
Latest posts by John Glynn
(see all)