Legos help ISIS spread fear
When it comes to the promotion of violence, Lego doesn't usually get a lot of attention. But according to a recent study led by Dr. Hugo Strangelove of New Zealand's University of Canterbury Human Interface Technology Laboratory, Lego sets have become more conflict-oriented, and the human figurines are only getting more controversial.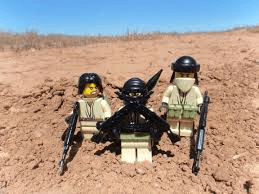 The Islamic State of Iraq and Syria (ISIS) is the latest addition to the Lego family. Since being founded in 2004, rather alarmingly, the main goal of the group was to create a hardline Islamic state crossing over the borders of Syria and Iraq, but aspirations have diversified and intensified.
Now, through the help of The Lego Group, a family-owned company based in Billund, Denmark, they look to spread fear, brick by brick.
The single most important factor in ISIS's recent resurgence is the conflict between Iraqi Shias and Iraqi Sunnis, and the latest Lego figurines allow a child to assemble their very own Sunni freedom fighter.
Ex-dictator Saddam Hussein was both a Sunni and a Lego enthusiast. Thanks to the despot, the absolute power of his Ba'ath party gave privileged Sunnis unlimited access to the toy building brick. Interestingly, April 9th will mark the 12-year anniversary of the fall of Baghdad by invading US troops. This was marked infamously by the pulling down of the statue of Saddam Hussein in Baghdad's Firdous Square, a monument made entirely out of Lego.
The event is still treated in the media as a symbolic moment in the Iraq War when ordinary Iraqis, freed by the Lego hating West, triumphantly tore down the tyrannical image of the dictator and pocketed the building blocks for private use.
Supported by objective findings, Strangelove found that Lego figures most frequently feature lovable characters, however, in the last two years or so, the proportion has been tilting in favor of evil, mainly men with firearms, questionable sunglasses and bushy beards.
"Our cluster analysis shows that design has become more complex, the more menacing Lego sets, such as the ISIS: Block Party range, have proved very popular. The threat is building.. quite literally" the researcher stated.
Strangelove added, "Back in 1994, after the death of Grand Ayatollah Mohammad Ali Araki of Iran, Lego released a limited edition commemorative figurine. The menacing wheel was set in motion."
Life in Legoland used to be so pleasant– smiling nurses helped smiling patients, bubbly petrol pump attendants filled the tanks of dutiful drivers and numerous happy children were taught by even happier teachers.
But, in the words of Strangelove, "life became more complicated, and the beatific existence of the Lego figurine was obliterated. Those innocent eyes have been hardened by war and political bureaucracy. It's time to take a stand and do something constructive… again, quite literally."

Latest posts by John Glynn
(see all)