Nothing is decided yet. So how about Caitlyn Jenner for the new $10 Bill?
Mark it down in your calendars, people: Five years from now, the $10 bill will have a woman on it.
In the words of Hillary Clinton, "Yes, announcing the gender instead of a particular woman is nothing but a token gesture, but this female face will symbolize a new era for American women. Maybe in another 100 years a woman can appear on the $20 bill."
When asked which woman she hopes to see, Clinton replied, "Oh, me of course — Oprah wouldn't be so bad, I guess."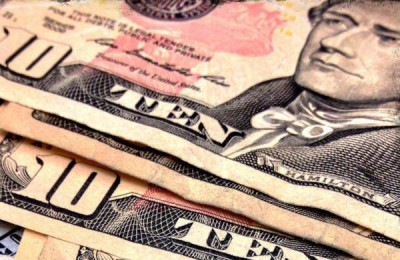 Considering all the men who currently appear on American bills are dead presidents, except for Alexander Hamilton and Benjamin Franklin, one obvious question needs to be answered. Must the female face be the face of a dead female?
Take Nancy Pelosi, for example, when the House Minority Leader backed Secretary of Labor Frances Perkins, America's first female cabinet member, to appear on the bill, Debra J. Saunders, the conservative columnist, replied, "but Pelosi is still alive, isn't she?"
Rumour has it that as a political position is not a compulsory requirement, a celebrity could very well appear on the bill. Beyoncé, Betty White, Taylor Swift, Ellen DeGeneres, Kim Kardashian, each of these celebs have been mentioned, but one name seems to be appearing over and over — Caitlyn Jenner.
"As the new $10 bill will mark the 100th anniversary since women received the green light to vote, the choice is a difficult one," said Jacob "Joe-Joe" Jack Lew, the 76th and current United States Secretary of the Treasury, and the man solely responsible for the final decision.
"People have been suggesting a suffragist leader, someone like Elizabeth Cady Stanton. Boring! I don't care if she was the matriarch of the suffragette movement, Stanton doesn't excite me. Caitlyn Jenner, on the other hand, that's a tasty prospect."
When asked if Jenner was a sure thing, "Joe-Joe" replied, "Well, nothing is for sure. Life is full of surprises. That asshole Trump is running for president, Bill Cosby, Josh Duggar, the return of the X-Files, it's a crazy world we live in. I'll tell you one thing for sure — Rachel Dolezal will not be appearing on the bill."
"So, with that being said, what other names are in the mix?" asked a reporter.
"First Lady Eleanor Roosevelt, first African-American congresswoman Shirley Chisholm, Martha Stewart, Cher, and feminist Betty Friedan. Quite a selection, I think you'll agree," answered the Stephen King, Stephen Colbert morph.
Last question, sir. What about Alexander Hamilton? The first Treasury secretary played a monumental role in developing our financial system. He has been on the $10 bill since 1928, what will happen to him?" asked a concerned looking reporter. Smiling and nodding, "Joe-Joe" replied, "Don't worry, we are going to get Storm Thorgerson, the man behind the album artwork for Pink Floyd's Division Bell. You know, the two huge faces staring at each other. This bill will look incredible. Jenner looking into the eyes of Hamilton, just beautiful.
"But, sir, Thorgerson passed away in 2013," whispered the reporter. Obviously embarrassed, the United States Secretary of the Treasury simply said, "that's news to me."
Latest posts by John Glynn
(see all)